Eventide Owners Group.
Until, 2002 I was the Secretary, and had been for many years, of the eventide owners association. Before that for 30 years nearly, I had done every job in the association, from editor to President..... You will also find reference to this on my personal page. As an association they included all the designs, mostly home built, that have been sponsored by the Yachting Monthly magazine over the years.
The designer of four of the most popular boats was Maurice Griffiths G.M., A.R.I.N.A., with whom I was fortunate to have a friendship during his latter years. We sold the plans for his and the other designers that were sponsored by Y.M. There is a sailing dinghy of 13 feet and cruisers from 16 to 31 feet. All for home build. Full details of all these can be found on our new site.
Click here to go to the Eventide Owners Group website
Sadly in January 2003, the eoa, after a major split, became a 'non owners' association. The actual 'owning' members wanted an 'Owners Assoc', but the committee, comprised more and more of non owners, did not agree, naturally, as it would have excluded them from office. The real members, having been defeated by the committee, have now split from the assoc and are have formed into another group, of just real enthusiasts and owners. A massive web site is now open and if you click the link on the links page or on the picture below, you will be able to see more.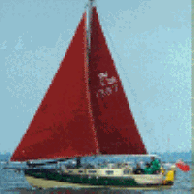 (Click the picture of our boat, "Fiddlers Green" to go to the site! )
After nearly 14 years our new group has got more than 1650 enrolled members, over 10 times as many as the old association had. We are active and busy, a friendly group of builders, restorers and owners. We organise sailing meets and social events all round the UK.
John Williams,
Web site Coordinator for the EOG.