Maddy The Minor.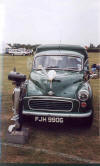 Maddy the Morris Minor Van. (and me)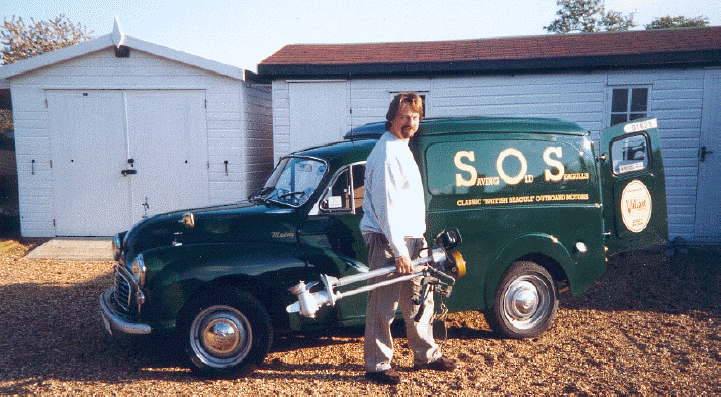 'Maddy', my Morris Minor, was first registered in September 1968. She has been in use ever since. When I purchased her for my British Seagull business, in about 1994, she was in need of a little TLC! The entire floor was replaced from the engine bulkhead, to the rear doors. Front wing, door panels and even the roof! Then a full re-spray.
Mechanically she still has the 1098cc 'A' Series engine, but I've fitted a Mini manifold and carb, (it's more efficient). Lead free head, Duplex timing chain, and a stainless exhaust, (which still burbles on the down hill stretches!). Polyurethane suspension bushes, front anti-roll bar, disc brakes and servo assist. Wider radial tyres, (vans had a slightly wider wheel rims.) Quartz Halogen headlamps, electronic ignition, variable delay wipers and even an up rated heater!
Most of this is not really visible, and can be reversed, for the purist. Modifications have been done, mainly, for safety. She is in regular use, clocking up about 8,000 miles a year. I do have a pair of bronze portholes to put in the sides, the 'O' in 'SOS' of course, I just have to pluck up the courage to cut the holes!
A creditable 40 M.P.G. is achievable in normal urban driving.
Top speed is in excess of 70mph, (Minor saloon rear axle).
0 to 60 time about a fortnight!
---
'Maddy' the Moggy's refurbishment.

I have owned Maddy, my '68 Minor 1000 van, for over 14 years now. When I first got her we uprated the brakes and suspension, after frightening ourselves to death with the old tired originals, repaired panels, up rated the head, exhaust and carb and had her resprayed. She was then in daily use as my rolling advert and work horse for my vintage British Seagull business I started back in 1992 when I retired from the Marine Section of London's police.



Before rebuild

For over 10 years the paint job lasted, but eventually I had to admit that the rust was bubbling up all over the place and I should be looking at having another 'go' at her. Sadly about then my dear old mum passed away. She had been a regular passenger on our trips to Sainsbury's every week, she loved it too. When it transpired she had left a few hundred pounds to me I thought that was the incentive to get cracking.

I touted Maddy about and got quotes, albeit verbal ones, from several restorers. Quote varied from 2 to 2.5 maybe 3 thousand for a complete job. Eventually I opted for the dearer quote as the man seemed to know Minors inside out. Two to three months was the suggested time scale. Great I would have her back in good time for the local village show…..

December 2007 I drove her into Pete Morris's shed in Colchester, and away we went. By January she had been stripped of most of the chrome trim and ad ons, spot lamps, mirrors and the like. I took all these parts off to my workshop to repair or restore them, or in some cases replace them.


As weeks went by and I tried to drop in every week, it became apparent that one, it was going to take him longer, as he had other projects that were taking precedence, and two, he had under seriously estimated the amount of work and the cost.

I resigned myself to a long haul and as the cost escalated, to the knowledge that a real thorough job was being done and the extra time would give me time to gather the additional pennies.

In the end it took over 10 months and cost me £6,500, plus… as I supplied a lot of the repair panels and parts myself, eventual total over £8,500!!! Way more than it was going to get valued at and a constant source of grief at home with my family…. Still as I intend to keep her and pass her on within the family when I am too old or daft to still career around in her, it seemed worthwhile… Well I have to say that….




New bump stop and welding on rear spring hanger.

Pete was meticulous. The Moggy was stripped to a bare chassis, which was not in that bad order. He showed me that it had not been properly spot welded from day one the panels on the top of the chassis were only attached at the ends, not every 3"! Must have given a bit of flexibility!
Fully repaired chassis.
A few repairs were made, bump stops replaced, then it went away for shot blasting, which showed up a weak spot or two that were cut out and replaced. Peter also blanked off the extra holes that every chassis has, for left hand drive applications. A copious coating of primer followed.




Chassis in primer

Eventually the fully welded chassis was sprayed with super black sticky stuff, the likes of which the local army Land Rovers get coated in. The box sections were then filled with gloop and all allowed to set.




Upturned chassis with springs, painted.

I had taken the front discs away, along with the Armstrong units and back shock absorbers, all were either renovated or replaced. All the bushes had been replaced with more modern poly bushes, and as parts were refitted they were again renewed. There seemed no point doing otherwise. Peter also replaced the suspension legs and the tired torsion bars.


At the same time, the van back was removed and was being rebuilt. I had fitted one of the first GRP roofs to her 10 years or more ago, this was removed to reveal that the sealant had corroded the metal, so needing another repair.




The badly corroded metal flange supporting the roof

As spring gave way to summer, my hopes of exhibiting in the local flower show, pulling our woodland themed float, evaporated. Work progresses painstakingly slowly, but the good news was that the major project Peter was also working on was finished, so more time was devoted to Maddy.




Inside the cab, repaired and in primer



New panels fitted to rear wheel flares

At the front end some panels were fine, others swopped for better ones Peter had in store, and others for new. There was a certain amount of trepidation as the back was very floppy at this stage, so temporary struts had to be fitted and frequent checks to ensure square. All new fixings were used, including some specially made in stainless for the rear doors. Look smart! Peter looked at the rain gutters on the cab and removed them, making smart new ones to replace them.



New gutters fitted







Here Peter has Maddy nearly 100% in primer.

Slowly, bit by bit parts were going back on. I purchased all new lamp fittings for front and rear lights, bought another pair of Halogen headlamps, with new boots and seals, to replace chipped glass or tired parts. New rubber seals everywhere too. New bonnet hinges, wiper arms the lot, if it was iffy and I could get new ones, I did.

I bought a new loom, it was so much easier than repairing the frayed old one. Peter also had a new 9 gallon fuel tank from an Escort, that he modified to fit, as the old tank was looking just a little too rusty….




Modified Escort tank, now 9 gallons capacity.




New front shock absorber fitted. New ones at the back too.




Motor re-sprayed and with porthole fitted.




Peter managed to salvage the bumper. It should be a metal sprayed one on the commercials.

A friend had a Minor in his workshop that had rusted away, but it had a good motor and gearbox.. I bought it. My old gearbox jumped out of 2nd, 3rd and 4th on the over run! OK for me to deal with, but not clever for the wife, so Peter swopped the box. I have saved the motor for later. The old engine was already OK so it was simply cleaned and sprayed up green again.




The engine has a lead free head of course, stainless exhaust and mini manifold and carb. Ignition is electronic and the oil filter a spin off mini one, all modifications tried and tested years ago. They were simply refitted.

Finally in August the van was a rolling chassis with cab fitted and rear on the chassis but spaced away from the cab for spraying. All was in primer and laboriously rubbed down ready for topcoat. We were having the same colour again, but somehow it came out a shade lighter. Peter sends vehicles away for spraying.





Stainless door hinge bolts

In September we had a family gathering, the excuse was it was to be Maddy's 40th birthday. Peter had to work extra shifts to get her ready, but at one stage I thought she may have had to be picked up on a trailer…. But the day before the party, I picked her up and drove her the 40 miles home.

Ready to take the drive home for her fortieth birthday the next day.

The drive was alarming, the brakes did not work properly, The clutch mechanism was wrong and the roof and windscreen leaked like a sieve. Add to that the steering was so stiff I could hardly turn the wheel, and it squeaked alarmingly.

However at every set of lights or junction she turned heads, people waved, drivers tooted and old men smiled! By the time I got home I might have had a wet neck and aching arms, but I had a grin as wide as a mile!




Maddy posing by the pond at her 40th


All day there were the hits of 1968 blaring out from the CD player hidden in the back. We had a decent gathering, despite the rain and the kids just loved the air horns! The new kitten in the picture is actually deaf, so it never troubled her!

In the garden, 40 today!

I even got on the local radio show, as just by chance the Sunday morning music program on our local BBC Essex was playing all the music from exactly 40 years back that morning. They had me on for 5 minutes talking about the van, which sparked loads of Moggy memories from the Essex audience!


I did not drive round for long with the bows and ribbon, the weather that afternoon put paid to that, after the guests left, it fell down! More puddles on the seats! Just simple snags to sort….
One of my sisters turned up with a cake, she had cleverly copied the picture from the front of my Seagull website to fix to the cake. However the lad drew the line at singing happy birthday to her!


Maddy's cake!

At her party there were a lot of comments about the paint job. It was full of dribbles, windows, fisheyes and dust. I spoke with Peter. He too was disappointed. We started on a snag list and a week later Maddy returned for the last jobs to be finished, the electrics and tow bar. The poor paintwork was on the van back and as the seal leaked, it was better to remove the back, have it cleaned up and re-sprayed and re seal the joint properly. This is what Peter did. The result is a lot better.


One of the final jobs was to fit a tow bar, so I could pull a very light dinghy trailer behind her. My mobile British Seagull test bed! Again I was able to supply all the electrical parts. Peter relocated the new number plate I had supplied onto the offside rear door, with the new lamp I found. A very smart job. I now had the 'old' plate as a spare for the trailer too.



Rear doors and tow hitch

I had previously fitted a fuse box to Maddy, passing all the electrics through fuses. Why, well in the early years a shorted wire caused a fire under the dash. Luckily I was wearing gloves and able to snuff it out.

I was appalled to find there were so few safeguards. My old fuse box was in need of replacement so I now searched for, and found a perfect fuse box. It had 2 positive buss bars each with 6 fused outlets, so I could fuse the 'always live' and the 'ignition on only' circuits separately. Find it on line at www.the12voltshop.co.uk £30.00

Peter's electrician, Scott made an excellent job of wiring it all in, even incorporating an anti theft device as well. Though he never worked out the converted Mini heater wiring, again, took seconds for me to do.

I had also supplied a new speedo, as I have had it stored for years, just in case. Scott fitted it, only to find the milometer did not work. I removed it later and refitted the old one. Taking courage to remove the back of the new one, not as simple as it sounds…. I eventually got to the working parts. It took me 10 seconds to fix! Some clown in the factory had fitted the toothed operating wheel back to front….. Now, with the new speedo, mileage starts again from zero! I also have a GPS on board to help me find my way around Essex when I am collecting or delivering my Seagulls. I also find it has far more accurate speedo than the mechanical one, which over reads by about 10%!

Scott also fitted my radio cassette player, a job I had been putting off for years, so I can once again listen to my music, if I turn it up loud enough… 1968 was a good year for music too!



New speedo and GPS! Ancient and modern.

Peter fixed the stiff steering by lowering the torsion bar suspension, it had looked ridiculously high at the front!. Simply the wrong geometry… The squeak was still there, but I'm working on it. Bleeding the brakes again cured that problem. Thankfully no more water leaks either

However it took another month to finish off the electrics and in the end I took it as it was in October and finished off the rear fogs, reversing light, front fogs myself. It wasn't Peter's fault, I had no bulbs in some of the lights, so he could not have checked them anyway, and a couple of hours sorted the last of it.

From the new hub caps on the freshly silvered wheels, to the radio aerial and the tail lights, my Maddy was now in better order than the day she left the factory 40 years ago. With discs and servo, anti roll bar and the small engine modifications, halogen headlamps and tow bar, she was not only an eye catcher, but useful to boot.



New sign writing going on.

The next week I had the 'sign writing' done again. The same company that had done it 10 years back still had all the signs saved on file, except this time we would not need the 'O' in SOS' as Peter had fitted the porthole I had been saving for 10 years! I was troubled about cutting the hole, but now it is done it is stunning! Just have to keep polishing the bronze!



Late October, out of the workshop at last, posing at the marina.

I took her down to the Marina and posed her in front of the boats for a few nice shots. The marina staff turned out to admire her. See the green boat in the background, we like green, she is our home built wooden sailing cruiser….



Maddy with 'Fiddler's Green' in the background.

I now have to remember to add 30 minutes again to any journey, not because she is slower that the car I had been using whilst she has been in bits, but because I need that extra time to answer all the queries where ever I go!

I had a set of air horns lurking, and had Peter's electrician fit them. When the lorry drivers hoot now I can shout hello back!

Tucked up in her warm garage, yes she has her own little heater; I trust she will be good for thousands more miles and many more years.

I have started to line the rest of the interior and have a couple of interior lamps to fit in the load apace, as well as an electric fan heater to cope with the condensation on the rear windows in winter. I have already lined the floor with felt and rubber mat.

I carry old Seagull motors in here, sometimes as many as 6 at a time, so she does work for her living. She is also my every day wheels, delivering parcels to the post office and is to be seen anywhere in Essex and sometimes further afield. My little business, caring for Seagull motors, www.saving-old-seagulls.co.uk has financed a lot of this, and I am sure Maddy is going to repay Seagulls with years of service.

Why Maddy? Well she is named after a favourite moggy of mine, and her pic is always in the cubby hole, sentimental old fool.

Maddy the real moggy

I have to say a very big thankyou to Pete Morris and his crew for all their hard work. Peter was the first to admit he had seriously under estimated the cost and time, but we got there in the end. The colour is growing on me too! She was valued by Rob of the MMOC at £7,000 for the insurance company, who of course raised the premium a few pounds, whilst agreeing to cover it. Maddy is very much a part of me, and is recognised wherever she goes. I spend a lot of time waving back to people, sadly I often don't recognise them!

John Williams
Saving Old Seagulls

2010 I have been working on anther project, a BSA Bantam, 1958 vintage. More details soon, I have 2011 now got her a log book and number plate just finishing touches yet to do....
So meet 'Madinat', named after a white cat of that name, (it's Arabic for 'busy').
The cat was my constant companion whilst I rebuilt this bike, she was white and had one yellow and one blue eye, and like so may cats of this colour, deaf. So she minded not a jot when the bike spring into life. Sadly though she did not hear the tractor coming either and the driver callously ran her down, expecting her to move! The bike has her picture on it and her name, in Arabic, on the front number plate.


---
Barry, the late webmaster, had a quirky sense of humour, he was one for the trivia... click the link below.
Barry's anecdotes!