Nostalgia.
I have here a collection of old adverts and obsolete leaflets, that contain no technical info, but they are great to browse through. I have included a picture of a large framed poster that I have in my store, it was by one of a series by artists of the era.
Some years ago I tried to get the old 'British Seagull' company interested in a small publication, on the history of the 'British Seagull', including these paintings, as I had the ear of Mr. Cobb, one of the artists. All to no avail, I'm sad to say. So this is the best I can do. If you have any old posters or adverts, especially the ones exhibited by dealers over the years,
I would love to hear from you.






This advert from an Australian paper was sent in by Steve Green, thanks Steve. I actually have the remains of one of those crates. Steve has a complete one!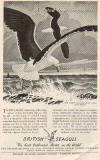 April 2005. The latest from Steve!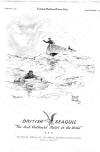 All of the above adverts have been kindly copied and sent in by Steve Green of Australia. Some are wartime 1939-45 adverts, some from America, others from 1950's yachting press. There are quite a few I had never seen before!
---

This pic of the advert for the British Seagull Re-fueller came in from Andrew Dawson, along with a host of other bits that will appear on these pages. It replaced the old 102 tank on wire legs! not quite the same, but it did have British Seagull stamped into the steel sides.

The British Seagull induction silencer and Storm Cowl!
These were a hard plastic, that sadly succumbed to the sunshine and the clip broke, the outer part then fell off at the first opportunity! The modern equivalent is rubber and costs over £12! Only really needed if you intend to be out in nasty stuff!

Remember these! Another from Andrew. I have one fitted to a 16ft dinghy!

The picture above is from October 1949 Yachting press. It depicts a waterboat, delivering freshwater to the boats on moorings. I have the full size poster hanging in my store! Again thanks to Andrew for this one.
---
Remember this advert? It was glued to the back or inside of every British Seagull dealers window. This one is glued to a thick sheet of Perspex, must have been displayed on a counter maybe, Sent to me by Dr. Lande from Germany. He has sent a few British Seagull bits to me and he is pictured on the Gallery pages with his gull! I did have problems getting the scanner to focus on this one, it is not as clear as it could be, due to the thickness of the Perspex. I have another of these door or window stickers, it is of the little girl in pigtails, sadly this one is new and still on the backing paper, so it cannot be seen till glued to a sheet of glass..... Might find a nice sheet of Perspex for that one too!
Below is the other item he sent this time, it is the British Seagull man on an oval cardboard shape, meant to hang in the Dealers as a display item. you cannot see the shape as I have edited it out, just to make a cleaner picture. It would have hung on fishing line, I have a similar one hanging in my office and one in my store!

Thanks Doc, I think your first name is Erik, but sadly I cannot quite read it... (obviously doctors in Germany are just like ours here, my doc, a friend and fellow sailing man, has the most atrocious handwriting, good job prescriptions are all done on the computer these days!
John
Dec. 05.
---

Here we have a pic of an old Seagull toolkit bag that recently arrived with a Gull I purchased, there was a British Seagull multi spanner, a wire handle screwdriver and a tiny feller gauge still in the bag, a little rusty but after 45 years still usable! The plastic bag was inside.
---

How many of you can remember this advert? Though not exactly for British Seagull, it featured one! How many can remember National Petrol? Page from a yacht magazine of the time, sent in by Andrew Dawson.
John,
Dec 05
---

This advert on the left would probably be banned today, but a read of the words will give an inkling of the markets British Seagull were opening up. It wasn't just us yachties!
The advert on the right says it all really, British Seagulls are sensible, sedate, strong, what others can we think of?
Another from Andrew, thankyou.
John SOS
---
I'd like to thank Richard Gyselynck for the following clips from a British Seagull leaflet of 1978. Richard was clearing out and found an envelope full of leaflets and thought he would send them to me knowing I would put them on the site for all to see. thanks Richard...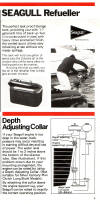 1978 and British Seagull were trying to update their image but maintain the reliability, sadly the horrible steel tanks arrived about this time. That strange carry handle as well! The extension tillers I still have and many of us fitted the recoil starts. Sadly no longer available! The semi weedless prop arrived too, only caught half the weeds!
I have copied these clips from the British Seagull Broadsheet of the time,
'British Seagull Sea Tales'
More snippets to follow!
---
Greg Taylor from Queensland, Australia has sent this leaflet in, though not an old one, early 1980's, I had never seen it before. Printed in the USA and distributed in Oz we believe.... It will appear on other pages too.




I particularly like the comment about the British Seagulls being used by commandos, (to creep up on the enemy?) not my first choice of a stealth machine! Other writings talk about the British seagulls being used for barge moving and pontoon bridge building, not as 'daring do' but more believable!
---

This is a scan of the instructions for the 'Rotagull', not made nor recommended by British Seagull! However it did provide a means of obtaining reverse. all the old one I've seen had corroded so badly they were too difficult to rotate! Nice idea but the extra strain on the transom and the engine was a little much.

Sorry about the quality, when I get a better one I will add it, Thanks to Charles Palfreeman for scanning this one for me, I had never seen the instructions, though I have had several new ones over the years...
Charles has also sent the instructions for the British Seagull side mount, yet again though I have had several new sets of these, all were without instructions!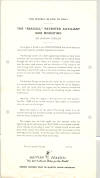 Donald 'A' has very kindly taken the time to look out an article he remembered seeing, in a vintage 'Yachtsman' magazine, all about the Side mounting bracket. It also shows the very early bolt on bracket, in bronze. I have one of these, well made too! Thanks Donald.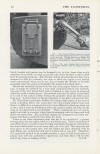 Note the date! 1946. The British Seagull is a model AC.
---
Another five Classic adverts from the 1950's. Thanks to Andrew Dawson for sifting through some old magazines for these.
Interestingly the 'Best Outboard in the world' logo can be seen on them, 1953, after that date it changed of course to 'for the World'!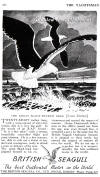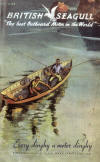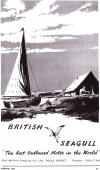 ---
Andrew has also sent this advert for the carry handle...

---
Thanks to Rob in the Netherlands for sending this in, attached to a British Seagull he has in his collection. The instructions in all sorts of languages show that many British Seagulls were destined for export!



---




These rare instructions for the Siba Recoil start were sent in by Charles Palfreeman. He is amassing quite a collection of these leaflets, but I am very pleased to say that like me, he is willing to share them with all!
I actually have two new boxed Siba starters here!
---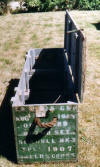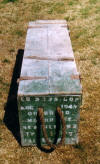 These pics of the British Seagull crate were sent in by Andrew Dawson of Sherringham, more for his museum!
---

The two leaflets above sent in by Dave Barker, look at those prices!
---

This gem came in from Steve in Australia, seems British Seagull man did not only carry a rucksack!

Another from Steve, 1948 vintage British Seagull advert!
---

These two leaflets were sent in by Henrik of Sweden. they show the remote tank arrangement used for the British Seagulls there. the remote tank was pressurised by means of a small brass pump fitted to the filler. As he says it was a mad system, can you imagine the problems in a fire?!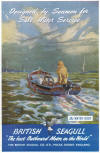 Below are some of the information sheets Henrik has, they came with the motor his father bought in 1962 and Henrik is renovating, including changing the fuel tank to a standard British Seagull brass one!
---
These Seagull adverts of the 1960's were sent in by Albert in the Netherlands. a rare find!
---
2011, I thought I had seen all the adverts, but here is one I might have missed, from Mark Walker, Thanks Mark.
More in from Mark, this is a 4 page leaflet he found on a trip to the States. Some of the content you may have seen elsewhere.
Thanks again Mark.
---
This leaflet was found by Wolfgang and forwarded to me, there is an Italian dealers stamp on it.
---
---
Another version of that Seagull on a Seagull as used in 'Yachts and ...' advert.
---

Alan sent this in Nov 2020 a real Seagull on his Seagull!! Cruising the River Alde in Suffolk.
---

This never before seen copy of a Seagull advert send to us by Wolfgang!
Many thanks.
---
To E-mail SOS john@saving-old-seagulls.co.uk
(or phone01621 778859)
If I am not answering the phone, this might give you a clue to where I might be!

Please look through the 'FAQ' page first, you might find what you need there.
Try also the 'I. D. your British Seagull' pages, before mailing queries to me, as I now have to spend much time answering your e-mails! That, of course, keeps me from the workshop! UK queries may be better by phone, as I can ask you those extra little questions that might solve a problem easier. (Like why your 102 has a century plus gearbox!)