Marston Seagulls.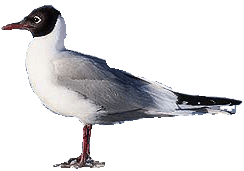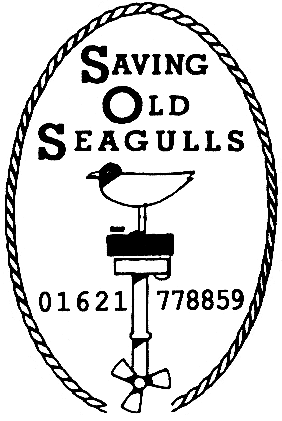 This page is now being revamped and will just apply to the Marston Seagulls. It will take a while to sort out all the information I have, and I still may not have it all, so if you have anything to add, pictures engine numbers or other historical information I will be pleased to add it.
After this article about the Marston, scroll down for a real treat!
THE MOTOR THAT FOUNDED A DYNASTY.
Below is a picture of a 1931 'Marston Seagull',No. OA 320, of the first years of production. This motor is in my ownership.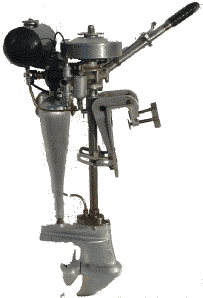 This 1&1/2 hp, 78cc motor was made by the Sunbeam Motorcycle Company, Sunbeamland, Wolverhampton. At the time it cost £26! It is one of just a dozen known to exist and possibly one of the few that actually still runs!
I now, in February 2003, have possessed, at one time or another, three of these motors. Of the other two, one, (which you can see sold, on the 'for sale' pages), is a long shaft conversion of the early Marston. The other was a reversing model, the Super Lightweight, a real rarity, now in the hands of Mr Harper, the son of the gearbox designer !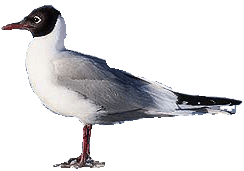 The 'British Seagull' was the design of John Marston's, engineers at the Sunbeam Motorcycle Co. It was their attempt to diversify into the marine market with a purpose-designed engine. The engine code was 'Outboard, type A', thus Model 'OA'. Very soon a Sunbeam engineer, Bill Pinniger later with John Way-hope founded 'British Seagull'. The engine design changed very little for the next 20 years, and even at the end in 1996, the 2hp Featherweight was very similar. There is more on the 'British Seagull History' page.
Just prior to WWII the factory was set up on the south coast at Poole. They produced a small range of engines; the most prolific was the 102cc. This was made by the thousand, for the war effort, and used by the Army for moving pontoons and bridge building across Europe during the Allies advance. Some later publications said for commando boats, but I suspect that is a flight of fancy, I would not want to creep up on anyone with a British Seagull pushing me! The War Office decreed that they must be able to work non stop for 24hrs. I had heard a story, years ago about British Seagulls being buried in France, but had nothing to back it up, in 2002 I had it confirmed by a veteran, they had indeed buried dozens of British Seagulls, and inflatable boats, on the D. Day beaches, in the dunes. They were as a back up in case it all went terribly wrong, and to prevent the need for another 'Dunkirk Little Ships' armada. As we all know, the Allies never needed the British Seagulls, but a lot of Frenchmen 'liberated' them, for more peaceful use!! Today many are still in use, having been salvaged out of rivers by locals! The Navy also had their own type of British Seagull, in smaller numbers, these can be easily distinguished from the others by the extensive use of bronze for the gear levers, props, casting of the gearbox, the drive tube and exhaust! I have an example here awaiting restoration.
The simplicity of design carried on for the next 65 years, 'British Seagull' as the marine section became, went on to produce up to 80,000 units a year in the late '60s and '70s. The slogans 'Everlastingly British Seagull' and 'Simple Perfection' said it all.

For a little more information about John Marston and his work, click Villiers on the links page.
---


A limited number of Marston Flywheel pullers available, specially made to remove the 'domed' Marston Flywheels. Sorry sold out....

Pattern cover for Marston domed flywheel Sorry all gone.

Satin chromed steel air intakes for the early Marston Seagulls. last one or two. £15.00 each

A limited number of brass air intakes for the Marston 'Navy type' Wartime Seagulls. Beautifully turned and polished they only fit the Amal 2 Jet. £20.00 each. (One left October 2017.)
Late Marston highly chromed steel air intakes for Marston engines, Few available £15.00 each.

Brass 'L' shaped thumbscrews for the SD with mild steel cup washers, as the originals. A great copy of these. £16.50 each or £33.00 a pair.
---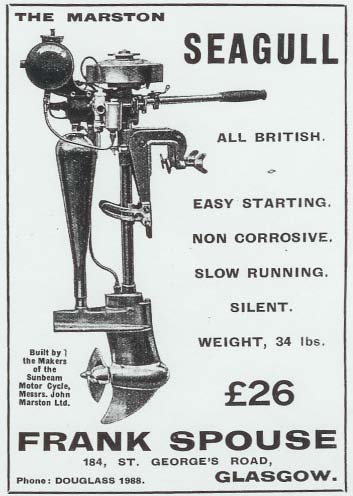 1931 Marston.
Identical to the one I have here! Note bottom feed carb and straight inlet.
A selection of 1933 adverts
Thanks to Steve Green in Australia for the last 5 pics!
---
Thanks to Paul Gregory who has sent this spares book in, he found it with a Marston hidden in his late grandfathers workshop.




The Marston was in bits, but I expect it will be reassembled once a block is found and will appear on these pages no doubt!
---
1933 Marston
Dear John, Glad to hear you're going to add more on Marstons to your superb site. I am the proud owner of a 1933 Marston in very good condition. It has been in my family from new, no. OA 601. It was used continuously on the Norfolk Broads until 1982, I attach a couple of pics which you are welcome to use.
Chris Bird.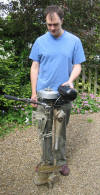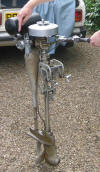 Thanks for these Chris!

Chris sent me these photos of his grandfather, Cecil Perham, with his new Marston in 1933 on the Norfolk Broads.
The second picture of the Marston has a rather racy girlfriend of Cecil's posing with it. Chris hastens to add it was not to be his grandmother, shame!
---
Tests on the Reversing Marston 1934

The above write ups sent to me by Steve Green of Australia, well found Steve!
---
The British Seagull Twin.
My thanks to Bob Harper for the following information. Name ring a bell? Yes the son of the inventor and engineer who developed the reversing gearbox for the Marston Seagull, that same design is used in most outboards to this day!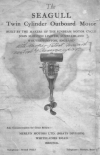 Click for enlarged photo.
THE SEAGULL TWIN CYLINDER OUTBOARD MOTOR
THE 340 c.c. Twin Cylinder Marston Seagull Motor is essentially a hard working utility engine, designed and constructed to undertake the arduous and every day services handled at present by robust launches and workboats fitted with heavy duty Inboard Motors, coupled with the outstanding advantage of Outboard propulsion; namely, low first cost, full space in the boat for passengers and cargo, full tilting for beaching and hauling up and the outstanding feature of one motor being suitable for use on several hulls of different type and capacity.
The Twin British Seagull can definitely be used under the most exacting weather conditions; plugs and ignition gear are entirely enclosed and a 50% reducing gear is incorporated to drive the exceptionally large slow running propeller, thus enabling the heaviest displacement boats to be well within the scope of this motor.




My thanks once again to Charles Palfreeman for these adverts for the twin.
THE SEAGULL TWIN CYLINDER OUTBOARD MOTOR
Slow running is a great feature of the engine's performance, which will idle all day without the slightest difficulty, and owing to the two cylinders firing alternately, giving TWO impulses per revolution, the smoothness and silence of operation is phenomenal. There is nothing gained, in our estimation, in having twin cylinders unless the cylinders fire ALTERNATELY since the torque reaction of a twin cylinder firing TOGETHER is no better than a single cylinder and its action is harsh, unless confined to the smallest motors running at high speeds.
When fitted with a neutral and reverse gear the Twin British Seagull lines up with the most luxurious and tractable Inboard Motor made to-day and is of inestimable value for use on Yacht's Tenders, Ferries, Pilot Boats, Fishing Boats and others requiring to be constantly idling for short periods without stopping the motor.
The Twin British Seagull possesses all the characteristics of the Lightweight Model with its rust less construction, main and reserve fuel supply, adjustable Steering tension and silence, etc., and like its smaller brother the carburettor is situated outside the boat and it is impossible for fuel or oil to collect or soil the floor boards in any way whatsoever; this is a most important point to a discriminating yachtsman whilst it is also a factor of safety that cannot be disregarded when accidents by fire afloat have such significance.
SUITABLE CRAFT.
Owing to the fact that the Twin British Seagull can be obtained in exceptional shaft lengths it is possible to use this motor with great success on all classes of boats up to 25 ft. in length and as an auxiliary on considerably larger sized craft than this.
When fitted to hulls of the Speed Boat or semi-Speed variety, and equipped with the coned propeller, speeds of over 25 m.p.h. are obtained in perfect silence and with the same smoothness of running of a six cylinder Inboard Motor.
Owing to the slow running propeller and reduction gear the difference in speed occasioned by the varying number of passengers aboard is considerably less than in any other existing Motor, also it enables fast craft to be built of a far more robust type, enabling open sea work and quite extensive coastal cruising to be indulged in with safety.
Such boats make admirable fast Yacht's Tenders giving the owner of a spick and span vessel the opportunity of anchoring well away from the dock head and its associated grime but at the same time, owing to the speed of his tender, being able to keep well in touch with the shore for shopping purposes, etc. Every yachtsman will appreciate the convenience of keeping his boat a little outside the normal anchorage and thus avoiding dirt, noise and inconvenient rolling caused by the wash of perpetually passing boats.
( Wonderfully dated text isn't it! Pure 1930's)

These two photos of a twin were taken by Tom Goepfrich in America about 1986/7, this was just before he sold it to a collector in Wisconsin.. I wonder where it is now? Thanks for the pics Tom.
---
There is a rumour that there was another Twin British Seagull, using two 102 pots? I heard this from several sources, but as yet have not had it substantiated... Can you add details to this one? if so please contact me, John Williams, just click on my 'message in a bottle' symbol.
---
Below are a couple of pictures of Charles Large's latest acquisition, a Marston Twin, all in bits! Look forward to pictures of the finished outboard.
the block and crankcase

Gearbox and mounting bracket
We now know of 4 of these twins that survive! any more out there!
---


These two 1935 adverts from Steve Green are also for the Reversing British Seagull!
---
1935 Marston.



Thanks to Sandy for sending in these excellent pics of a very clean and original looking Marston with reversing box. There cannot be many in as good condition as this. It belongs to a friend of Sandy's who was very happy to let it be seen here.
---
Marston OJ


The three pics above are from Jimmy in Scotland of his Marston 1936 OJ. Charles Large now is restoring this motor., we look forward to seeing the pics of the restored engine....
---

Write up on the 1936 British Seagulls

These 1936 adverts from Steve Green show the 102 Marston straight exhaust...
---
December 2005. Here is the long awaited leaflet, in full, so kindly donated by Tim Wilkes.
I make no apologies for the size of the files, they are worth it! This is a 12 page leaflet, with pictures and text, explanations of why they chose not to produce the twin and other gems. The address given in Hamworthy, has so far not been traced, but Charles Palfreeman is working on it!
I think you are going to like this, just sorry it has taken so long to get it to you all.











Plus there was an additional little page with this advert for the extension tiller!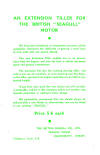 ---



This series of adverts was sent in by Charles Palfreeman, note the cast Ali rudder. I always wondered what that would have looked like! Good to see dates and motors so we can get some idea what they should look like.
---
Had this letter in from Robert Cordon-Champ, the biographer of Marston and the sunbeam Cycle saga! A little extra info on the man....
John Marston (1836-1918) was a Victorian industrialist who started as an apprentice with Edward Perry, Japanner and Tinsmith of Wolverhampton (then) in Staffordshire, England. Having served his time, Marston worked in neighbouring Bilston and found the money to take Perry's over when Edward Perry died in 1871.

Perry had made domestic ware such as spice-boxes, tea-caddies and snuff-boxes mostly black-japanned ( a stoved enamel paint finish which preceded modern enamel paints) and often lined-out in gold leaf.

Marston continued this, adding brass and copper ware to build a reputation for quality of manufacture which is still recognised by collectors in this field.

As a keen tricyclist himself, it was a logical development to move into the embryo cycle trade in 1887, under the trademark of 'Sunbeam' with the new company of John Marston Ltd. literally alongside Perry's original works in Pool St. and Paul St. Wolverhampton just off the Penn Rd.. ( At the time of writing the works are still standing) ' The Sunbeam' (Not just Sunbeam but THE Sunbeam!) became a beautifully -made cycle with most of its works' enclosed and lubricated in the 'Little Oil-bath Chaincase' and finished in gleaming Japanned finish with the traditional 24ct gold-leaf lining on the expensive 'Golden' model. These cycles are highly prized today, one of the company's famous customers being Sir Edward Elgar, composer of Land of Hope and Glory.

In order to manufacture the many machined parts needed for cycle production, Marston set up The Villiers Engineering Co. Ltd. in Villiers Street with his son, Charles Marston, in charge. Villiers became the largest maker of two-stroke motor cycle engines in the UK, their name appearing on many thousands of flywheel magnetos as well.

John Marston Ltd. made the company's first Sunbeam car in 1897, at the same time becoming a major vehicle radiator maker, and their first Sunbeam motor cycle in 1912. Sunbeam also made lorries, 'buses and aircraft engines.

In 1928 and 1929 the motor cycles won the Senior TT races in the Isle of Man and the next new product was the Sunbeam 'British Seagull' outboard motor, finished in black with gold lining and made in the same factory as the TT bikes, with machining done at Villiers.
The war loomed, however, and now as part of ICI, Marstons began to sell off their products and transfer to mostly aircraft component work.

The cycles and motor cycles went to AMC of London in 1937, then to BSA in 1943. The Sunbeam cycle, to the 1892 basic design, was made until1957.

Hope this helps, Bob.
Thanks very much Bob,
John
SOS
---
Below is a list of the Marston Seagulls, ( with a bit of overlap!) the list is not yet complete, but with the help of Charles Palfreeman, Charles Large, Rick Jones and others I hope to fill in some of the blanks.
| | | | | |
| --- | --- | --- | --- | --- |
| Year Manufactured | Engine Lettering Code | Engine No. | Engine Size (cc) /Name | Series |
| 1931 | OA | 1 | 78 | Standard |
| 1933 | OA | 387/300? | 78 | Standard |
| 1933 | OB | ? | | Few models made for Salmon Fisheries |
| 1934 | OA | 800/868? | 78 | Standard |
| 1934 | OA | 483/0/200 | 78 | Standard |
| 1934 | OE | 513/0/1001 | 78 | Hi Duty |
| 1934 | OF | 511/0/501 | 78 | Super: Neutral & Reverse |
| 1935 | OA | 483/4/200 | 78 | Standard |
| 1935 | OE | 513/3/1047 | 78 | Hi Duty |
| 1935 | OF | 511/3/500 | 78 | Super: Neutral & Reverse |
| 1935 | OG | 533/0/100 | 102 | Super: Neutral & Reverse |
| 1935 | OH | 534/0/101 | 102 | High Power: Neutral & Reverse |
| 1936 | OK | 552/0/101 | 102 | Super: Neutral & Reverse |
| 1936 | OJ | 551/0/101 | 102 | Short Water Jacket - Direct Drive |
| 1937-41 | OP | 101 | 102 | Short Water Jacket - Direct Drive |
| 1937-41 | ON | 101 | 102 | Short Water Jacket - Clutch Drive |
The first 2 years of manufacture were lumped into one, as the 1st British Seagulls were produced late in 1931. Seems they only made 387 in 18months... You will also note the 1933 Marston Seagull numbers seem to end 300, bit odd as they start at 387.. I think this is a typo and it should read 800. This would make the numbers about right. However does that mean they only produced 68 motors in 1934? But then there are 3 sets of numbers for 1934, with different prefixes? Not sure we will ever get to the bottom of that one.
Were there any OC's or OD's? Anyone know?
I would like to eventually list all the models in the Marston era by code, with a description of them as well. A further explanation of what a 'Hi Duty' or a Super' or Standard' would help too. There were so many variations! Will take a little time but we will get there.
There is also a register in the making, of all known survivors from the Marston Era. My own Model A is no longer the oldest working OA! Rick and The two Charles will be collating this information for the site.
John Williams.
Saving Old Seagulls.
---
To E-mail SOS john@saving-old-seagulls.co.uk
(or phone01621 778859)
Sorry if there is a slight delay in me getting back to you, I am having so many mails sent in these days...
Please have a look on the FAQ page also the'I. D. your British Seagull' pages, might save us both a bit of time.
UK queries may be better by phone, as I can ask you those extra little questions that might solve a problem easier. (Like why your 102 has a century plus gearbox!)
If I am not answering the phone, this might give you a clue to where I might be if it's good sailing weather!