News.
Hello Folks! Yes we have a news page and I will add bits to this page as and when.
I will be adding to the page at the top in future so you will not have to scroll to find the latest additions
John Williams SOS
---
Click below for Mark Walkers Gull Newsletters

Get Adobe Reader
---
April 2014. The royal Mail in the UK have just increased their postal prices. I hope I have edited all the prices I have quoted in various places on the site. Trouble is I have scattered them all over the place as a guide. May miss one here and there, apologies if I quote you a different, higher price, than you see on these pages. I will try and correct all.
---
Essex Flocking of Seagulls 2011..
Sunday October 9th 2011 10am
Paper Mill lock on the Chelmer and Blackwater Navigation.
North Hill, Little Baddow, Essex. CM3 4 BS

See the Events and Racing page for pics of the day, great fun had by all!
---
Last summer I supplied a load of parts for Vlad in Croatia. He and a few friends were planning to re create a trip that was often done in the past on the River Sava, 700 kilometres to the Danube at Zagreb.
I am pleased to say the spares I supplied him restored the Seagull and it pushed the raft for most of the way! There were some great pictures of Croatia and of the river and raft to see. sadly the link failed last I tried so the pictures have been removed, still you can see from the picture the laid back way they did it! Well Done Vlad and Co!
---

Stolen Seagull
Alex has lost his Forty Plus from Lochgolihead boat park, (Not sure where that is but if you are in the area you may know it and be offered a gull!) Engine number GFP1541FF6
Really like to be able to nail the culprit. if offered this Seagull ring local police or contact Alex on 0781 3818761
September 1st 2011.
---
August 2011.
Kingfisher/Osprey inner exhausts
I have just taken delivery of a small number of these I have had made locally.
They have been unavailable for a while and hopefully these will get a few back on the water. £45.00
---
August 2011. SOS multispanner back in stock, £10.00 still, also reconditioned fuel taps with new filters, corks etc, £22.00
---
March 2010 Tracked post...
From now on all post to South Africa must be sent tracked at buyers risk. I have just lost money to a buyer in South Africa, Paul Flavin, whose parcel has apparently failed to arrive. I give people the choice, tracked or untracked, but am not willing to stand the loss if buyers opt for untracked, uninsured, especially to some areas of the world where post is slow to say the least. This will include the USA and most countries outside the UK commonwealth.
---
New products!
White Flying Gull and mixture instructions transfers for 102 now available £10.00.

Set of 5 notelets with Old Seagull advert, the harbour scene, £5.00
Also 24inch long poster to frame, of same scene.
---
Home made motorbikes?????
https://www.youtube.com/watch?v=L-FE42yduNI&feature=related
If you click the above link you will see there is a Seagull connection!
---
The Two Stroke Guru has died.....
Prof. Gordon P. Blair died on October 21st 2010 after battling cancer for several years. He will be fondly remembered, but greatly missed by all his family, friends and colleagues.
Gordon Purves Blair was born in Larne Co Antrim in 1937 and educated at Larne Grammar School. He then went to Queen's University in Belfast to study Mechanical Engineering, where he obtained a BSc degree in 1959, a PhD in 1962 and a DSc in 1978 - this latter award is a "higher doctorate" awarded in recognition of a substantial and sustained contribution to scientific knowledge.
In 1962, having finished his PhD, Gordon Blair moved to the US where he then spent two years as Assistant Professor of Mechanical Engineering at New Mexico State University. In 1964 he returned to Queen's University where he worked and remained until he retired early in 1996.
During his career at Queen's University Gordon rose right through the ranks to become a Professor of Mechanical Engineering, Head of Department, Dean of Engineering, and finally Pro-Vice-Chancellor of the University. His published research work includes over 100 technical papers, three research text books and he was the editor of three research compilations. He also had nine patents granted.
During this time in academia he also achieved many professional engineering distinctions including:
He was a Chartered Engineer (CEng).
in 1974 was made a Fellow of the Institution of Mechanical Engineers (FIMechE).
In 1978 he was made a Fellow of the Society of Automotive Engineers.
In 1982 he was made a Fellow of the Royal Academy of Engineering - a very prestigious award.
From 1991-1992 he was Chairman of the Automobile Division of the Institution of Mechanical Engineers (UK).
From 1993 to 1997 he was a Member of the Board of Directors for the Society of Automotive Engineers.
From 1994 to 1996 he was a Member of the Technical Committee of the Royal Automobile Club and was their Chairman from 1997 - 1999.
In June 1995 he was awarded a CBE in the Queen's Birthday Honours List.
Gordon Blair always had a love of motorcycles and in 1964 embarked on a journey that would not only enhance his research credentials and reputation around the world, but also that of Mechanical Engineering at Queen's University in Belfast. That was the year he began contesting the Irish road racing scene with machines designed and built in the Mechanical Engineering Department at Queen's University in Belfast.
By the end of the nineteen sixties Gordon Blair's research work on engines had produced validated computer simulation programs which were helping design more powerful engines and providing theoretical and design insights that were giving the Queen's University team advantages over even the biggest factory motorcycle teams. In 1969 these research and design efforts began bearing fruit when Queen's rider Brian Steenson finishing second to the great Giacomo Agostini in the 1969 Ulster GP at Dundrod on a QUB 4-stroke bike.
However, Gordon knew that the future of GP racing was 2-stroke engines and his 2-stroke engine designs went on to power Queen's rider Ray McCullough to many victories over the ensuing years, including seven Ulster Grand Prix victories to equal the greats such as Giacomo Agostini, Mike Hailwood and Stanley Woods.
1971 was a very important year for Gordon and the Queen's team because that year they beat the works Yamaha team in the Ulster GP using a Yamaha engine which had been privately developed in the workshop and test cells at Queen's University - Gordon Blair and the Mechanical Engineering Department at Queen's were now on the radar of Yamaha in Japan who soon forged a technical agreement with him so that Gordon and his Queen's colleagues would assist with the Research & Design of the company's racing engines. This relationship was to continue successfully for many years.
In 1984 Professor Blair became Dean of Engineering at Queen's and so handed over the racing mantle to his colleagues who continued flying the banner right up to the early 2000s with continued racing successes.
There is also a long list of other visionary engine design and development projects resulting from Professor Blair's tenure at Queen's University which are far too many to mention here.
Professor Blair retired from Queen's University in 1996 as Professor Emeritus. Since that time to this he forged ahead with his interests in engine design and simulation. Initially he worked with the US company Optimum Power Technology to commercialise the engine design software he had developed, based on the 30 years of research carried out by himself and colleagues at Queen's. However, he also decided to start a brand new chapter of work and educate himself in an area of engine design that he previously had little experience, and that was 4-stroke engine valve trains.
And this is where we came in. For approximately the last 14 years we have been primarily engaged in developing computer software to design engine valve trains. At Professor Blair and Associates Gordon was Senior Associate, and to date, he has succeeded in influencing the design offices of over 70 companies all around the world who use our software - he has also visited each one in turn to properly train and guide them in its use!
Many of these companies are currently involved in motor sport activities and regularly winning races, so, as our colleague and friend Hans Hermann so eloquently put it,
"Professor, there is a little bit of you in engines winning races all over the world"
- and long may it continue!
--------------------------------------------------------------------------------
©Prof Blair & Associates 2010
---
I am Michael Martin, one time MD of British Seagull.
Mike Gregory phoned me this morning and told me the sad news about Gordon Blair. Have just read your words about him.
I did a lot of work with Gordon - firstly when I was Chief Development Engineer at BSA Redditch were the BSA Bantam engines were made. Then he helped me with the Mickmar engine. Then he was involved with Seagull during my time working their - indeed he was instrumental in Seagull recruiting me. After I had gone off and worked as Chief Engineer at Villiers for a bit I started consultancy work. At one time we were both consultants to Seagull when the QB series engine was being developed.. QB standing for Queens Belfast of course.
Finally we worked together at Westlands, Yeovil on Remote Piloted Vehicles (i.e. model aircraft!).
One way or another he did quite a bit for Seagull.
Cheers,
Michael Martin
---
The Seagull Trunnell boat.
I have been very fortunate to have been sent a copy of the original drawings for the Trunnell Boat. Our thanks to Mr R.S. Hamlett in New Zealand for this. The file is a PDF file that you can download. Any decent Printer can then run you off a paper copy. Who will be the first to built a new 20ft Trunnell boat then?
---
Not really Seagull, but the technology is about the same!
This is what John has been tinkering with during the wet days of the 2010 Summer!

September and it is finished! All I have to do now is get a log book for her! 'She' is a 1958 BSA Bantam D5, a little bit of a rarity, they only made this model for less than a year and only about 300 known to survive. At 175cc and 7.5 bhp she had a top speed of 50mph, suicidal on today's roads with her brakes, but she will be great for puttering round the Essex lanes and the local marsh roads.... Or delivering Seagull post to the village post office!
Post script. November and she is all finished, now awaiting the paperwork to get a log book so I can put a number plate on her.
Update December 2010.
I have just returned from the local DVLA offices in Chelmsford. I had an appointment to have the bike inspected so she could be given an age related number plate and log book. In the snow I did not fancy riding her over so got the chap who did the pre MOT to give me a lift. The people at the DVLA were genuinely interested and are submitting a favourable report to the Swansea office, so with any luck I will be puttering about on her next spring!
---
Just in, by popular demand, Outboard 2 stroke oil.

1 litre of TCW3 oil for £6.50. P&P £5.00.
---
Essex Flocking of Seagulls!
Saturday 15th May 2010 we are the guests of the North Fambridge marina at the slip and pontoon on the north side of the Crouch at North Fambridge.
We aim to assemble before Noon, take a trip up river to Battlesbridge, the head of the navigation, then back for a meal in the Ferryboat pub.
Launch 10.30 till noon then off to Battlesbridge and return...
Plenty of trailer and boat parking....
Common sense rules, lifejackets to be worn, spare fuel, tools, no overloading, etc...
for more ring 01621 778859.
---
I send a parcel of spares out to William on the other side of the big pond a few weeks ago, transported there by his aunt. Pleased to see the '68 Forty Plus is working well in a tub on his front drive, in the snow!
Click here to view a cold Seagull!
---
November 18th 2009, our new eBay search page has gone live! Using this page you can search for anything on eBay, I just tested it and bought a couple of Chestnut roasters for Christmas presents! The search defaults to British Seagull, but you can enter whatever you like, even chestnut roasters! Once you have found an item, especially if it is a Seagull spare part, save your self some pennies by checking my spares page first! Once again hats off to Brendan for making it work and being so user friendly. If you are overseas you can even search in your countries listings! Like a bit of feed back please, any improvements we can make.. We have already heard from one user of the Beta version on the forum and as a result the number of items per page can be altered to suit you!
---
November 17th. I have just added Bing Carb float bowls to the spares listings.

These have not been available for ages and I ran out of used ones a long time back. We can now supply new ones for £12.50, which might just rejuvenate a load more Seagulls.
---
16th September 2009. The long awaited surprise was added to the site today. Though in it's infancy it is a bit of a breakthrough for seagull owners. We can now simply type in an engine number and Brendan's new SOS British Seagull Engine Identifier will throw back our best guess as to what you might have.
We know there will be anomalies, with Seagull there was always going to be, what with all these odd orders for foreign climes with odd letters and numbers, and the number of oddities that got sold at the factory gate, but by and large we think this will cover most.
Please if you enter a number and it cannot cope, or clearly gives a duff answer, please mail us to let us know. Brendan has worked so much magic into the site and fixed so many problems I have every faith he, with a little help from me, can fix anything!
So try your engine numbers to test it please!
John
---
August 2009. After 6 months of grief, this spring we abandoned Easyspace for a new service provider, Gemini. I am pleased also to say a sailing friend has come to my rescue and is now my Webmaster. Brendan has rewritten the site, cleaning up the mess Easyspace left it in. For some reason they had changed all the file names to upper case, which would not work when we migrated the site away.
Brendan has corrected 300,000 errors, written special programs to correct things. The site though still large, works that much faster as a result.
I have at last full editing back, and Brendan has written a special editing program just for this site. all so very clever.
We also now have a new style forum, the old forum upgraded. The numbers of owners registering shows me how successful that is. The three moderators Rick and the two Charles's keep it under control. I visit when I can and throw my three penny's worth in, but for the most part it works well on it's own. Gives me a smile or two when I read some of the zanier threads!
I am now adding pictures of spares and parts I supply to the spares page. This way owners can compare the prices of parts. I have also included a few examples of the P&P I charge. As has been commented on, they compare extremely favourably with all the other 'suppliers'!
In the offing are a couple of radical improvements or rather additions to the site. Nothing of the old site will be lost, even the crying Seagulls will be accessible soon by a click on the home page. I know a few of you have been missing them! the reason for the missing sounds is the Webmasters efforts to make the site accessible to all, even those with visual impairment...
Hope you like all the improvements, I have had lots of feed back, which is great. We have had a few problems, and thankyou to those who have let us know when something did not work as expected. Brendan has always come up trumps with another way of making it work!
More news when I have it.
John
---
February 2008
British Seagull 75 stolen from Poole, Dorset.
Owner is Charles one of my forum moderators and frequent contributor.
This nice looking motor has no serial number?? (new crankcase..) Note the unusual thrust block and another distinguishing feature is the clutch lever has been welded. If you are offered this get the sellers details and contact the police and SOS.
---
December 2007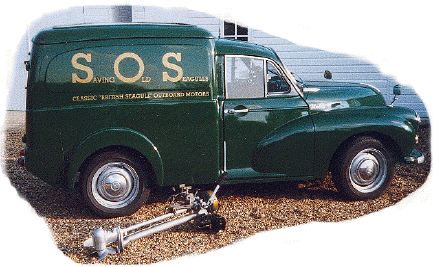 'Maddy' the Moggy Van is coming up for her 40th birthday, so to prepare her for this auspicious date, I have sent her off to be refurbished. She is to be stripped to the chassis and rebuilt, repairing and replacing any parts needed to keep her on the road till well after she is 50!
(Last time she had a real make over was 10 years ago....)
She will still be green, but the sign-writing will change slightly, to accommodate a modification I have had waiting to go onto her for years....
She will be back in February... or March.. or April... Last seen end of Feb still all in bits strewn round the workshop... I have loads of bits here refurbishing them, waiting till the chap is ready to refit them....
---
October 2007
British Seagull stolen from Chard, Somerset, Saturday 29th Sept.
This distinctive modified British Seagull should be easy to spot!!!!




Richard would like to have it back, have you seen it, if so,
call the police and Richard....on 07966366096
---
September 2007.
I get many letters of thanks and testimonials, but I do not normally print them, they just make me feel good,!! but this one had a snippet of advice that may be of use to our American British Seagullers, so I print part of it here.
I am not in the habit of writing a testimonial but I have to admit your advice counsel and humour have brought me happiness.

I have the above mentioned British Seagull (Forty Plus with Bing Carb) and it was dead!!! Or so I thought. I carefully followed your instructions moving from the fuel to the spark plug and even on to the re-magnetizing drill trick. Along the way I found out a lot about my engine and myself. (Read "Zen and the Art of Motorcycle Repair") What was the greatest experience after cleaning the carburettor, getting a spark and of course changing the lower gear oil, was having the satisfaction of a start in one pull.

I could not have done it without your web site.

I learned two things along the way which I did not find on these pages which might be some help. On the Bing Carburettor you can only re-insert the barrel in the correct direction a surprising and amazing engineering feature. The alignment of the ports is very confusing due to the fact that you almost need a third hand to reassemble the throttle linkage.

The second is of assistance to the American market where odd wrench/spanner sizes are required. The cap nut holding the rope pull plate matches the sizing for the standard American faucet wrench which usually comes in a hand socket it will neither damage the nut and is designed with holes for a cheater. All very useful, on a frozen nut.

Again thank you for your efforts in putting this site together, and happy boating.
W. Lawrence Lopez
Thankyou sir, I enjoy doing it!
John
---
September 2007.

For years I heard the story that British Seagull, at some time in the 1960's, tried a single ring piston. Up until this week I had never seen one. I am indebted to Brian Graham for not only this picture, but for the piston itself, which is added to my collection of British Seagull curios.
The story goes that, as British Seagulls were so low compression, the boffins thought they could run on a single ring piston, thus of course saving a few shillings.
A thousand were made, they were fitted to a batch of British Seagulls and tested. It was found that though the motors ran OK at first, for some reason the top of the piston overheated and the ring became trapped by debris.. Thus the idea was dropped. The remaining stock was sold off to dealers.. This was not a clever move, as doubtless some found their way into motors subsequently, causing problems for the hapless owners.... I have heard from Charles Large, that he had seen some new ones in New Zealand, where the racing boys thought they might be useful... they were not!
Brian's British Seagull, a mid 1960's Century, had probably never been repaired or serviced, but had been one of the ones fitted with the single ring piston at the factory and somehow got out onto the market.
If you consider that in those days British Seagull were making 2,000 motors a month, the 1,000 pistons would have only amounted to a months Centuries, if they were all fitted at once... I suspect only a few were ever fitted with these.
Needless to say I sent Brian a two ring piston to fit back into his Century!
Now we have to find that wooden piston.....
---
I recently, August 07, had a holiday, a special one, to celebrate reaching 'bus pass' age!
Went to the standing stones of Callanais, in the Outer Hebrides!

John, SOS
---
Sunday 24th June 2007.
My Jenny's Wedding!!
As some of you might know, John has been a little preoccupied for the past 8 months or so since he bought a little boat to renovate. The idea was to present it to Dave and Jenny as a wedding present... After some initial doubts, my wife Darian pitched in to assist and the final paint finish is down to her!

As found in Burnham on Crouch, a somewhat neglected Foxcub 18. Many of those who first saw it, raised an eyebrow or two, doubting if it was possible at all, let alone by Midsummer's Day and my Jenny's wedding!
As they are both very Eco conscious, he being a tree warden with a woodland, she trekking eco trails in the Amazon and working in an endangered species sanctuary etc... It will come as little surprise that the event was to be a green and eco friendly as could be planned. There was no confetti!, at the simple feast in the field later, there were recycling bins for everything!

Her best idea was for the 'favours'. To celebrate the wedding every guest was given a small (recycled) envelope with a certificate, hand made, announcing that a tree was to be planted for every person in the new St. Paul's Wood, Tillingham, and listed the types of tree. There was a nice little poem to go with it! I will be adding details of the day and the 'Favour' to the TWIGS website, go and have a look.. https://www.twigs.org.uk The names of all those attending will also be displayed later. Attached are a few pics of the boat, before and after, and of the happy couple, who are away in Greece in a secluded villa, on a tiny island, at this moment in time!
All ready to go!
The day was perfect, best was that the predicted heavy downpours all missed us and we had day long sunshine! Interestingly, as the happy couple got into their Jeep to leave, late that night we had 5 spots of rain, then it stopped... they drove through heavy rain all the way to Gatwick! They now have a heat wave in Greece!
We named the boat 'Beachcomber', which if you know anything about them is what they do... with the articles they find they produce the most exquisite items of jewellery and other craft items, that they sell at the Brixham craft fair every week!

Waiting for the couple!

A new British Seagull for power, a Curlew, made by John
We gave the boat the home port of 'Brixham' where Dave and Jenny have bought an old house and are now based! We have their faces captured as the first saw their transport away from the Castle where they were wed. (They asked me to arrange something 'quirky'! )
As they see their transport for the first time!
They were having bets as to what it would be, with Jenny going for a combine harvester, courtesy of Keith, our brother in law's contacts, and Dave figuring on a Rigid Inflatable on a trailer. (they have both done their safety boat courses for the work they do with youngsters in Brixham harbour!) When they first spot it, as it was hidden round the corner at first, they burst out laughing as Dave says 'told you so!!' Then a quizzical look comes over Jenny's face, (she told me later that at that moment she spotted the port of registry.... Brixham.......) At this point Darian gave Dave a long parcel and I gave Jenny an envelope to open.
Opening the card and parcel
Dave had no idea still and the odd look on his face when he finds a 'red ensign' on a pole is classic. What the.... However Jenny has now twigged and has found a boat shaped key ring and key.

Jenny has now reads the card to Dave
In tears she reads out the card, 'Bon-voyage, just add water'! The hugs and tears and the look on Dave's face, priceless!

Daves' Grin! They wanted to ride in the cockpit all the way back to the farm, but were dissuaded... It was not till much later they got on board to open up the cabin, and find the goodies inside, even down to a copy of the designers life story, (Uffa Fox, for those who might recognise the design!) That was donated by dear friend Doug! To say they were speechless is somewhat an understatement. We hope they get a few years fun before moving on to something larger!


Onboard for the first time!
They have already rung me from Greece, to say they have already decided the first thing they are to do when they return, is go to the Brixham Y.C. to organise a mooring and enrol for the Day Skippers course! They took the key with them to Greece!!! Soon I will be adding the finishing touches to 'Beachcomber' and arranging her transport to Devon, after that I suspect normality will seem rather humdrum!
A toast from the bride and groom!
Regards to all,
Normal service will be resumed as soon as my feet touch the ground again! John
April 2007.
Just strayed onto the British Seagull section on E-Bay, whilst looking for a compass, and was appalled at the prices asked for British Seagull parts! One item caught my eye, a gearbox plug, at twice the price of a genuine one! I am not sure how these guys sleep at night. Engines that are plainly past their prime with starting prices in 3 figures. I even saw a 102 with a buy it now price of £200. Who in their right mind is going to buy one at that price? Sadly people are mug enough to and there are those that seem to prey on them. I will not sell on E-Bay, nor have a 'Shop'. If you really know what you are buying and the carriage is not extortionate, (this is where they make their money also I'm told), you can pick up a bargain, but I have too many customers who bought pups on E-Bay, there are a lot of rogues out there! And the compass??? Got better and as cheap at my local chandlery, with a warranty!
Beware!
John
---
April 2007.
I have just recorded a 'Podcast' for Furledsails.com. If you would like to hear an interview with me try this link.
FurledSails.com Podcast #84 Saving Old Seagulls
I tell a little of my sailing experiences, my Police background and my British Seagull work, amongst other things!
John SOS
---
February 2007. I have just added some great adverts and information to the new Marston page, and this week another twin Marston has come to light!
More info on the Non British Seagull outboards page and to the nostalgia pages.
Also more items for sale, i.e. Waterproof covers, Old style Bakelite HT caps and leads to match! 25 years old plus, brand new, for these and more see the for Sale Page.
---
To try and stop the web crawlers picking up mail addresses I have taken to removing the '@' and substituting 'at' on any of your mail addresses you supply. Simply remove the 'at' and any spaces, then substitute '@' to make the addresses work.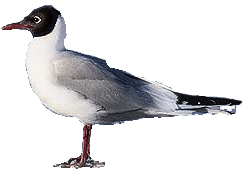 ---
Gold and Treasure!
I had an interesting phone call earlier in the month, from a researcher for a TV company. They were searching for a Robert Groves, and stumbled upon him on my site. Robert was the artist who supplied British Seagull with many a fine drawing for their adverts....
His son was in touch with me re his fathers work some time back, and it was he they wanted to find. I was able to put them in touch, nothing to do with British Seagulls though.
The story that un folded was instead one of treasure, gold, pirates and kings, of treasure maps and wills!
It seems Mr. groves for many years had an old parchment framed on his wall. It related to a will of a pirate, one 'Eli Fleete'. It seems this pirate probably nicked the treasure, in gold, of bonny Prince Charlie! The will was found in a chest, a real pirates chest no less! It had also contained a map, and Mr Groves had written about this in a Scottish newspaper years ago, the 1930's. this is how the researcher tracked him down... Seems Mr Groves mounted an expedition to try and find the treasure, but the map led to a spot off Ireland, where the land had been reclaimed by the sea, so the sea probably took the gold!
All will be the subject of a TV program, and when I find out more I will give the date of the program. In the meantime I have a couple of files sent me, a copy of the will and an explanation of sorts too... I reproduce them here. What Robert's son is after now is the whereabouts of that old will? Must be hanging on a pub wall somewhere!


All stirring stuff!
As a post script, I have now had a mail from 'Lion TV' who have made the television program.
It is due to go out in October...
BBC TWO at 7.30pm:
Friday 12th Oct :Charlie's Gold
John SOS
---
January 2007
New waterslide transfers in stock! £10.00 plus £1.00 p&p UK.
£1.50 overseas
As fitted to 1960's and 70's tanks.
---
Villiers 25:1 needles reduced to £6.00 each.
That's less than half the old price!
---
New SOS Engine cover gets Special approval!

Thanks to Albert in the Netherlands for this one! His daughter has adopted it!
Now where do I fit the outboard Dad!
---
New 'king Dick' spanner, Nov 06
Charles Large, oft contributor and moderator on the forum, has tracked down some special spanners. they are 85 degree offset open enders, see pic. I have used one to great effect yesterday, far better than the traditional open ender, see pic of the two together.



Apparently all British Seagull workers were issued with one of these, but they were not chrome plated as these are. Speak to Charles to buy them, see the forum for more. We are informed they are properly called 'Obstruction Spanners'. All I know is it does the trick!
---
November 2006.
I have just received the first batch of my new line, engine covers, they are made of strong, grey, waterproof fabric, printed with the SOS logo on both sides, with a tough nylon draw cord and large enough to fit all British Seagulls, even the QB's with plastic tanks and 102s. Priced at £17.50 plus P&P, £2.50 UK.
Now with 'The best outboard motor in the world' printed on top!
Coming shortly, waterslide transfers! sourced one I think as good as the originals!
Also, a new range of Stainless Steel nuts and bolts,

Above is new tiller and clutch stud, £7.50 in Stainless inc nut pin washer and spring washer, not shown...
Also new Stainless dome nuts for Wipac points ignition. £5.00! Villiers dome nut now also available £5.00!.
I will make up kits for gearboxes, power heads, etc for most British Seagulls.
John SOS
---
October 2006
I have at last started to alter the pages to make a dedicated Marston section. I will add all things Marston to that page, so nice pics and explanations of all the models needed!
I hope we will have a register and parts swap going via this page and the forum.
I am also adding adverts to the nostalgia pages and pics to some of the others too, a lot of housework to catch up on!
John
SOS
---
August 2006
New items in stock include the 25:1 Villiers needles, £12.50,
Stainless tank straps for 102 tanks and S/S straps, with fittings,
for long range tanks, £7.50 each.

Stainless Exhaust clips, with fittings. £6.50
New Villiers 'thumb' throttle levers, as original, £20.00!
Better Stainless thumbscrews with captive washers. £13.00!
new waterproof fabric outboard cover and waterslide transfers!
---
Had a delightful call the other day from a gent who was researching his fathers life and work, for the sake of his grandchildren. He had been informed that his father, one Robert E. Groves, has done some art work for British Seagull! I was able to confirm this and send him to the more Nostalgia pages. He was delighted and subsequently sent in this pic to me!
Entitled simply 'Seafarers' it shows that Robert E. Groves had an eye for boats of all types!
1865-1949
We know Robert as the early British Seagull artist. I have a contact number for his son, Bob Graham.....
---
The Choke assembly below was brought to me in a box of Little Forty parts, but it is not from any Forty model I have seen. Can you identify it.??



As you can see these are plainly British Seagull parts, in full working condition, almost as new,
but the carb is an Amal 2 jet, not a Villiers as fitted to the Little Forty Models... Or was it?
We now have an advert, or Charles Palfreeman has, with a picture of this carb. So they did fit an Amal to the early Little forties. I wonder if the chap who came to see me with these parts has the motor back together again, love to see it!
John
---
There is a new batch of pics on the Nostalgia Page, nothing to do with British Seagulls either!
It is the Atco boat impellor!
---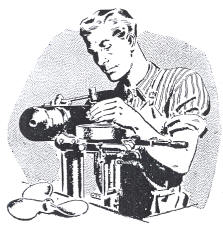 Charles Palfreeman sent this one in, who is this famous man from the 1950's, recruited to help build a 102 British Seagull?
Clue, the Mekon ring a bell?
There is a marked resemblance!
---
More British Seagull nostalgia on the Nostalgia Page, a range of old adverts from the 1950's, including other outboards as well, the Atco Boat Impeller, the Britannia Swordfish and the Anzani range.
---
British Seagulls for Sale!
I have placed a couple of adverts on the For Sale page. I am working on getting more out from the workshop soon. Hopefully clearing some space so I can uncover more British Seagulls worth restoring in the store!
John, SOS
---
Yes the new Forum is up and running and we all seem to be able to navigate round it with little trouble. there will no doubt be refinements, maybe the ability to leave little pics etc. We are working on it.
John SOS
---
Problem with spam on the site
For a long time I have been aware that the 'open' guest pages could be subject to attack by the mindless. So far I have avoided calling for you to register, wanting to make it as easy as I can for you.
However, February 2006 the site has been targeted and as a result we are opening a new Forum. You will have to 'register' but only to give a mail address that we can contact you on. This will hopefully stop the spammers.
We hope to save all the entries on the forum, except the spam, and enable you to search them, but first my Webmaster is working on the forum...
Watch this space as they say!
---
Greg Taylor from Queensland, Australia has sent this leaflet in, though not an old one, early 1980's, I had never seen it before. Printed in the USA and distributed in Oz we believe.... It will appear on other pages too.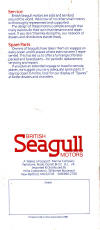 I particularly like the comment about the British Seagulls being used by commandos (to creep up on the enemy?) Not my first choice of a stealth machine! Other writings talk about the British Seagull being used for barge moving and pontoon bridge moving, not as 'daring do' as 'for the Commandos'' though!
---
Just to prove that even British Seagull were fallible, look closely at the picture of the tank on an old LS model. Spot the Error?

Thanks to Al Girling for mailing this in.
---
Hello Folks some time back one of my customers in Finland told me about his British Seagull, he had got it to run in reverse!
At first I was thinking it was a clever bracket, like the old 'Rota Gull' device, but no, Mika has thought this out and had changed the ignition, so he could move the backplate, then restart the motor, 'ROTATING THE OTHER WAY' The explanation would take pages, but he has put a load of pics on his website, go and be amazed! https://kotisivu.mtv3.fi/hilu/seagull.html The pages have Finnish text, but the pics speak for them selves... He has even made special thrust washers up to allow the prop thrust in astern to be transmitted. Clever!
---
Just had to copy this page off of E-Bay. A warning to all who buy there and a commendation to this chap for his humour!
John

clapped out British Seagull outboard - not boat
Current bid:£10.50

Time left:2 days 11 hours
7-day listing, Ends 23-Feb-06 02:14:13 GMT
Item location: Hampshire, United Kingdom
Description
Seller assumes all responsibility for listing this item.
clapped out British Seagull 40+ full history as follows.
1916-used by my great granddad on his fishing boat, unfortunately it seized up and he drifted into the battle of Jutland and took three direct hits by 12inch shells blowing the flywheel clean off.
1917-full rebuild using parts lifted from the quartermasters store in Portsmouth, (hp increased to 3.75) no receipts.
1918-confiscated by navy and used on admirals tender, thrown overboard in north Atlantic.
1924-found by large crab in 800ft of water, (no proof but led to believe he put dent in tank)
1932-dredged up by Spanish fishermen and used as an anchor.
1937-thrown overboard in English channel.
1939-washed up on French coast, hit by horse and cart and thrown back in.
1942-suffered heavy damage after near miss by depth charge, washed up on beach.
1943-rebuild using some wooden parts and some non genuine seagull parts.
1944-run over by a tank.
1947-found by a scrap metal dealer and sold to a can factory in the uk.
1950-turned into a 40gal oil drum.
1962-used as a float in a raft by kids on the river Avon.
1966-used as traffic bollard for 66' world cup
1967-total restoration.
1970-sold to harbour master.
1974-mysteriously burst into flames while being refuelled by harbour master with fag in his gob. chucked overboard.
1976-found by workmen doing new sea defence, hit by pile-driver and sent 18ft into the mud.
1980-dug up by metal detector enthusiast and sold to local pub. used as a feature on a fishing boat in the beer garden.
1981-stolen by skinheads and given a damn good thrashing with a sledge hammer, thrown in sea off Portsmouth.
1982-found by divers raising the Mary Rose, sold as seen to a yacht club.
1985-rebuild hp increased to 4hp,piston and crank blew up.
1986-rebuild,hp reduced back to 3.75.
1990-stolen.
1992-found by local gardener in his compost heap.
1993-stored in shed.
1997-shed hit by firework during bonfire night, igniting home brew and causing a massive explosion.
2000-seagul found 1 mile away in the top of an oak tree by tree surgeons.
2002-rebuild by gardener
2003-used as rotavator on an allotment.
2004-seized up during harvest. thrown in quay.
2005-hit by ferry and recovered by fishermen.
2006-bought by me, rebuilt and abused on every occasion, even my wife and daughter have been instructed to beat it if they have a spare 10 minutes, in fact I'm just going to nip out to the shed right now and give it a hair cut with the grinder.
as you can see I've been as honest as i can and its not often you get an outboard with a full documented history, it does start and run but does not pump water and is in good all round condition, it owes me 58 pence which is what I paid for some plasters after injuring my toe whilst giving it a kicking. loads of scammers please especially from hot countries as she will make a good desk fan.
Wonderful, nice to see someone with a sense of humour!
---
My grateful thanks to Charles Palfreeman who has supplied me with scans of leaflets, adverts and other information that I have added to the Photo Gallery, Re the 'Olympic', to the 'Nostalgia' and 'More nostalgia' and the 'British Seagull history' pages. The Marston Lightweight, the Twin and some of the unusual and odd add-ons and accessories that were fitted to British Seagulls over the years, do have a browse and enjoy!
I will publish any information on British Seagulls sent to me, all I have is also on here, for all to see, this is why so many of you send in your leaflets or scans of them.. I hope I have given anyone who has the proper recognition. Recently I tried to obtain a leaflet on the Marston that I had never seen before, sadly the auction price spiralled out of my range, so unless the new owner of this leaflet in Canada likes to scan the pages and send them to me, we shall have lost them.
---

Mystery Gull? Sandy sent this pic in, (nowir1 at btinternet.com) it is one I have trouble figuring out..... Is it a Factory Made?? Or is it a 'Bitsa'? The block is 102, the Engine number odd an 'EH' The ignition is Wipac CD and it is even fitted with an Alternator. An Amal 400 carb and late all Ali bracket... Sandy acquired it in Suffolk. I heard of another very similar a few months ago... that one in Scotland. Is there someone nearby making them up or is it just chance. I have heard of batches being made to order, non standard, is this one of those? Anyone any ideas.....
---
Happy New year to all.......
In my absence the counter has clocked up the magic 100,000 figure! Pleased we are still as popular as ever! Thanks to all for the additional info I have now been able to load onto the site.
Thought I would add this little poem sent in by British Seagull Owner, Ferd in the States!
John SOS
MERRY CHRISTMAS
T'was the night before Christmas, I swung on the hook
With snowflakes a'landing, asleep with my book
When up on the deck I heard footsteps and stuff
"I've been boarded!" I thought, and I tried to be tough
Then down the companionway hatch came a dude
He was dressed like a nut and I thought, "I'm so screwed
"But he laughed and he hummed as he surveyed my junk
So I figured he must be the resident drunk
His eyes were lit up like a junkie on speed
But he gave me a whole bunch of stuff that I need
Like rum and cigars and new charts and a dinghy
And some kind of fancy electrical thingy
I knew it was stolen but I wasn't telling
I just hoped he was giving and wasn't just selling
And I poured him a grog which he downed with a wink
Then I poured one for me (Lord I needed a drink!)
Then he staggered above to the dark snowy night
As I peeked I beheld an incredible sight
Eight tiny dolphins and a beautiful sleigh
And the ! dude hopped aboard and prepared to make way
The dolphins were ready to power the sled
But the guy raised a genny and mains'l instead
With a burp and a chuckle he gathered the breeze
And called to the dolphins, now swimming with ease
"Hey Stalker and FEMA and Cancer and Nixon!
Or Stinky and Pepper Spray, Mason, and Dixon!
Or whatever your names are, you cute little fishes,
Here's to every last sailor, my best Christmas wishes!
"As he sailed away leaving a wobbly wake
I hoped he had not many stops left to make
He got close to shore and he soon was aground
But the dolphins proceeded to pull him around
And I heard him exclaim as he sailed out of sight
Happy Christmas to all... and to all a goodnight"
byCaptain Michael Rafferty
---
At last!!!! See the Pure Nostalgia page to see the 1938 catalogue sent to me by Tim Wilkes.
---
Just a brief word to note to say that I see the counter on the home page is hovering on the 100,000! I am off to find some sunshine for a week and will not see it clock up. To all of you who have contributed to the site, a big thankyou! It has grown into the largest and thanks to all the information I have been able to publish, the most informative British Seagull site on the web. Just what my late webmaster intended!
John, SOS. Dec 22nd 2005
---

Another of those wonderful old adverts from the 1970's, Sensible Accessories!
Thanks to Richard in the Isle of Man for a clean copy of this one!
---

I have been busy on the Nostalgia and more nostalgia pages with old adverts and booklets. I have yet to scan the real gem, but hope to do that this week!
New pics on the Gallery pages too.
John, SOS
19 December 05
---

The text to the left, as it appeared in the Classic Boat article, inspired Lucien in France to make this rather charming Christmas card for me, complete with British Seagull on British Seagull, with silk tie!
Thanks Lucien!
Christmas 2005
---
Hi John, There is a chap on ebay mrbow999 selling a download of a British Seagull Service Manual. A friend in O Z bought one off someone else and was not downloaded to him, 10 pound was the price. Is this worth mentioning on your site, as you are aware this contravenes copyright.

Regards John Holmes Dec 05.
---



Hi John I have got the ID, No is OJ.551.0.139 I have not run it as yet but there seems to be good compression, the only thing is there is a part that is loose I have took some pictures and attached them I've never had a boat or outboard before but was advised to get a seagull as a back up so can you help me in anyway thanks ..Jimmy
Hello Jimmy, what you have stumbled onto is a museum piece! Sadly it has no great value, possibly £100 to a collector. Do not use it! There are no parts available for this motor. Indeed the air intake I have only seen in a drawing! the motor was made in 1936 by Marston Seagull and as far as I can figure out only 139 may have been made. About 1936 they changed the name to British Seagull. Marstons started the British Seagull Empire in 1931 with the Marston Seagull. I have a 1931 model as a museum piece! It is worth about £250, and it is the oldest running motor I have seen..... I would love to see more pics of it, so I could place them on the website... Regards, John SOS
Update. Jimmy has now swapped this veteran for a working century Longshaft, as a back up motor.
I expect Charles who now has this motor, will make it gleam!
---


Do you recognise this motor above? Pics sent in by Graham, along with a sad story of how it was complete and he got it going, only for it to catch it's prop, causing the damage here... Any one any idea where he could get a spare conrod!
contact him at the address below, ( remove the 'at and sustitute '@' you know the drill )
<graml at exemail.com.au>
---


The pics above come from Bruce Guppy in Australia, can anyone I.D. this beauty! Is it a Montessa?
Contact Bruce if you know!
Bruce Guppy <alectra at iinet.net.au>
Hi John I have found out what it is as follows; Extract from "The Old Outboard Book" By Peter Hunn ISBN 0-07-031281-8"A play on the action-packed words "sea" and "power", C-Powa was an early1950s outboard brand name that's easy to recall. Perhaps remembering the success of British Seagull outboards, the C-Powa people designed their motor to strongly resemble that famed U.K. boat motor. More than a knock off, though, C-Powa sufficiently impressed officials in Her Majesty's Royal Australian Navy for them to order some motors. The outboard's components were indeed sturdy, salt water resistant, and nicely finished.
Representative of C-Powa output from the makers Beverly Hills (Australia) factory was a 5 hp model that weighed just under 40 pounds. Though a quality local product, C-Powa production ran out of steam during the early 1960s."The read valve and direct crank-case induction, the propeller driven cooling system and some really, really serious compression along with excellent materials of construction is probably the reason why my old thing is still a runner.

It is a shame that the tank is not correct. It is a Villiers lawnmower type.
I have an Australian Golden Cheetah, about the same vintage, that has the same tank and brackets. I will be hunting for another such type tank in the local Australian avenues. Once complete, should be unique as I have not been able to find another C-Powa in any condition.

PS: When this old dear is flat-out, the exhaust goes clear of the water. Add the induction howl from the carb to the crackle of the exhaust and it is really quite something! At more sensible "old age revolutions" the note is subdued by the water cooling in the leg. The motor remains "warm to the touch" however it is pushed and always starts, even in the rain. (I put a spark plug cap on it!) I believe I am extremely lucky to have this in my "family".

It lives in my office by the way! See you on the river Bruce

---
Thought you might like a few pics of a cutaway model I have. Produced by the Villiers apprentices about 1970.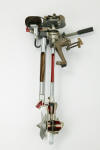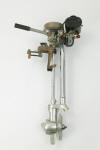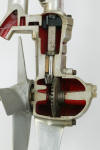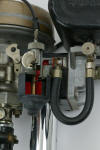 Pics by courtesy of Classic Boat Magazine.
---
December 1st 2005.
The website is back to normal thank goodness. I am starting to add the info piled up on my desk! It will take the rest of the year and then some! We still have no search facility, but that will be back, one way or another..
More new products, Long Range tank straps and 102 tank straps in S/S, £5.00 each. I am hoping to have a S/S British Seagull spanner, especially made for SOS! Details soon...
John, SOS
31st October 2005
The Website is back to full function again, or very nearly.
I have new items for sale.
Stainless steel thumbscrews, with captive cup washers and at £13.00, cheaper than the British Seagull
ones that bend and have the problem with the washers falling off!
More items in the pipeline.
Still offering to buy broken British Seagulls, if local....
Oil for callers, 1 litre £5.00 (sadly post is £5.00 too!)
Loads of pics to go on, plus a very rare leaflet, soon!
John, SOS
---
I hope by the end of October to have full editing and archives back on line. Sorry about the stagnation,
beyond my control. I will sing out on the Home page when I start loading the new stuff!
I understand they are getting there.......
John
October 28th 2005.
---
May 2005.
I have just added a batch of pictures to the Nostalgia pages, all old adverts, some from the
Second World War period!. Thanks to Steve in Australia for these. I have another series of
pages to place on there as well, Tim Wilkes has kindly sent me in a 1939 advertising leaflet,
more of a magazine really, many pages of photos, information and tech details about British Seagull,
from the days when they were in Hamworthy, Poole. I hope to have it on the site ASAP.
John
---
April 19th .
I have to report the sad death of my brother in law and friend,
my webmaster, Barry Sturrock. Aged just 55 he discovered he had
Prostate Cancer just 2 years ago. Sadly it had already spread to his bones
and lungs, so he knew his days were numbered. Barry has tried to
teach me and others, all he knew, to ensure the sites,
(he was a key figure in our Eventide Owners Group web site too.) would
continue. He is sadly missed.
John
---
March 2005.
Martyn Sandbrook has sent in pics of a new con rod cap he has made from bronze.
It is hoped this will cure the problem with his inboard 160. The 160 is the same
engine power unit as the 170 and 125. Photos below.



I think you will agree the new one is a bit
beefier than the old.!! Martyn is a little concerned about engine balance,
he may have to drill the flywheel to counter that. We will see.
John.
---
The following was left on the guest page, but having heard about this
from Tony himself, I thought it deserved a mention here. this little
Featherweight is about to go halfway round the world by the sounds of it!
John SOS
From:ozzytonyDate:07 Feb 2005Time:23:39:59 -0000
Comments
Hi one and all, I was up Johns way recently and bought a few bits from him.
I am a novice to this seagull lark and I am hooked Line and sinker. A friend
and I came via the canals from Bristol to London Greenwhich it took us eight
days in an inflatable and 40 feather weight. Same ancient plug the whole way
and never missed a beat. In one day we ran it for 15 hours straight. John told
me that we should have actually changed the oil in the gear box every 10 hours.
Would have been o.k. but we only had a bottle opener for a tool kit. Did it tough,
just turned the boat over and slept under it at night-no mod cons - too much to tell
Happy travels will keep you all
posted on the next trip.
---
Yuletide Greetings To All!
We have ditched the old Guest book and archived it. You will be able to open it to read it soon, or indeed you will be able to search for any subject on all the 'guest page' pages!
You are free to enter anything on these pages re British Seagull, but no advertising your business etc.
Unlike other sites you do not have to register or join to use the full guest page, it is a free and open source of information and exchange for British Seagull Owners. Hope you continue to use what has become the largest free archive of British Seagull information in the world. Thanks a lot to you, the owners!
John
Dec 24th 2004
---
Mystery Motor

Can you help Alan Wills with this unidentified Outboard. I thought it might be an Anzani, or maybe an
Evinrude, what do the experts think?
If you can help Alan his phone No. is 01803 405270, eves are best, many thanks.
John (Sept 2004)
---
John, remember the mystery motor you have on your news page? I made a couple of guesses awhile ago. I suggest that it may be a Dunelt. My mate got me "The Old Outboard Book" by Peter Hunn which has a lot of detail and pics that match up with the photo. The eyelets on the removable heads were for the remote steering cables. The tank looks like an aluminium one off a 8Hp single cylinder. The twin had a steel soup can tank with cut-out for flywheel. Was available with electric start. I bet it is a 20-25Hp "sports Twin" (70 quid new). Stopped manufacture 1932. Dunford and Elliott (s) Ltd Bath Street, Birmingham, England.
Yes?
The book also has details for my C-P0wa mystery motor. I will send them to you shortly.
See you on the river
Bruce Guppy
Click the pic to see the page from Bruces's book!
---
The answer to the mystery picture with odd serial Number?????
on the Photo Page.
They did not make electronic igns in 1973! Someone, in 1983, has put too many 'M's on this one!
Guess he had been double letter stamping for 10 years, and could not get out of the habit....
I wonder how many people have ever noticed in the intervening years?
Charles Palfreeman won the prize!
John
---
News from Magnus in Sweden.
This is for those with later British Seagull 102 cc models where the silencer is held to the block with a small screw.
the Classic 5, the 90/110, the QB's etc.
Magnus here again. Here something you might would like to know. I have now located what I think might be the problem with my corroded and seized British Seagulls.
All the talk about water that could actually be sucked in because of a small drain pipe might not be like that at all. You know the silencer tube fixing screw, a small hex one. It goes right in to the exhaust flange on the side and out in the exhaust port. Right through! The casting is not solid at that location, and if your fixing screw isn't long enough when tightened, water will be drained out there as well with a high pressure.
I connected a shower hose to the water delivery tube to check the flow coming out from the new made drain tube to see how it looked.
I was quiet amazed when I saw this jet of water coming from the exhaust port!! I thought the cylinder was cracked or something.
So it is obvious that a part of the water jacket is there too! I shall also mention that this was of course found on my classic 5 engine cylinder and I have no idea of what other castings might be. I will check all my other motors with a silencer fixing screw, or at least buying me a longer screw so it covers all the way in and stopping water from coming out in the port. This might be of interest on your "news" button. Kind Regards, Magnus
I think the answer is to put a bit a bit of sealant on the threads too. Thanks Magnus
John
---
Now here is something different!
Mike Mayhew has sent me details of these baby British Seagull model kits he makes.
you can buy them from him, tele. 01275 546772 for about £15 plus post.
---
I am indebted to Quentin Shaw for sending this in. As you know half of all
British Seagulls were exported. This written in pigeon English, it was the sort of thing that schoolboys
read about in the 'Boys Own Paper'!
Quentin has added the translation too! An extract.
Tok bilong moto ol i kolim SEAGULL (sigal)
Information about the outboard motor they call British Seagull
Wanpela kain moto i stap, nem bilong en SEAGULL. Em i no save bagarap
There is a motor called British Seagull, which doesn't breakdown
tumas. Ol man i save laikim dispela
too often. Everyone likes this
moto na kolim nem bilong en planti taim, olsem na long
motor and use the name often, so often that in the
Solomon Ailan ol i save kolim sigal long olgeta moto.
Solomon Islands they call any outboard a "British Seagull".
Ol papa bilong SEAGULL faktori i save tok: Dispela moto i winim olgeta
The bossed of the British Seagull factory say that the British Seagull is superior to all
arapela moto long olgeta hap graun. Dispela em i gris tok bilong ol. Tasol
other motors because of these feature. This is their boastful speech. But this much
wanpela samting em I tru: Ol i kamapim dispela kain moto long 35 yia i go
is true: they designed this motor 35 years ago
pinis, na long nameltaim i kam inap nau i no gat wanpela save I kamap
and since then they haven't had to make any modifications
winim dispela SEAGULL long ol i mas senisim wanpela samting bilong
to this design.
dispela moto.
R.A.Lachall, quoted in "Save na mekim" published by Melanesian
Council of Churches 1982
Now that puts it very succinctly I thought!
John.
---
Stolen British Seagulls! Information from Richard Farmer, he has had two British Seagulls
stolen from the Fenland area of UK. The first a WS286F9 with Ali weld
repairs to bracket and prop. the second a 40 model, no number, but it is
without a skeg! Richard would love to see them back, and the culprits
arrested. Have you been offered a pair of British Seagulls?
---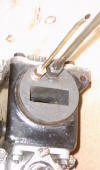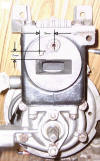 Rob sent these pics in of the conversion he did to his Century. I had mentioned that
I had done one but Rob has made a better job, and even photographed the work too. The idea is one that British Seagull
were working on just before they closed, to inject some of the jacket water into the exhaust to quieten it. It works.
Be careful drilling and tapping into the block though!
---
Breaking News. April 2003.
As of now there are no further supplies of the Villiers conversions for 25:1 running. We will have to check every
scrapped carb from now on to see if we can find any of those No. 2 needles. Sorry to disappoint some. But do not
despair, go to the 'FAQ' page for more information.
---
102 Brackets?
What sort of Brackets are these?? It has been suggested by Roy Tighe who sent the pics, that these are from
WWII engines and are side lift mounts? Anyone throw any light on it?

---
Repair of Tanks
These pics from Bob Abernathy, show how he repaired his dented tank. He cut off the ends, removed all dents
then re-fixed ends by adding a thin strip of brass and soldering back into place, nice job.
---
British Seagull Side Mount
Here we have a nearly complete kit to mount your British Seagull on the side of your boat. The part that is missing is an
eye fitting that the brass pin located in on the side if the boat. The stresses on it must have been fun!
Now
---
British Seagull Mounts? These two pics are of a deck or locker fitting that was sold as a storage fitting.
Have you seen one before? In an old leaflet it was described as a security fitting. Presumably to stop your
British Seagull rolling around in the locker or bilges! One end will take a 40 the other a Century. Clever.


Rota-gull!


This device was manufactured in the late 60's and 70's as an attempt to make your British Seagull into a reversing engine.
Bit heath Robinson in design, but I can remember seeing them in use, does anyone still use one I wonder? I have one complete and another with a small casting missing. They fastened to a British Seagull bracket. Not made by British Seagull and I doubt they approved of it either! (Only made to fit the 40 series.)
---
I am indebted to Matias for the following pictures and helping to throw some light on the 'Spanish British Seagull'.
These are in fact 4 photos of a Spanish 'Montesa' outboard, It has a Motoplat ign and a Dellorto carb, though the cover is missing. There are or were obvious similarities with the British Seagull, look at the prop drive, so some exchange of parts must have taken place between Montesa and British Seagull, does anyone know more?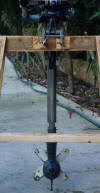 I have just been sent, October 2003, some pictures of John Creighton's Montesa. As soon as I can get the pics resent in a format I can use, (Jpg) I will show them. The best one shows a model where the crankcase is split vertically! Though the rest is based on British Seagull, this is totally different, Why?

---
Spanish British Seagull?
These three pics were sent by Lutz in Germany. They are of a Spanish British Seagull?
It looks just like a Featherweight, but with different Carb, tank and ignition.
Have just heard of another of these turning up in NZ. Has anyone else come across these and if so can you throw any light on their manufacture?
January 29th 2003. I have started a 'For Sale' page. First item, a Marston, 1931/2!
I will be adding other engines for sale on the 'Items for sale' page, as and when they are available.
---
News from Sweden, and I am indebted to Tommy Lidgren for his information here, a host of old leaflets, in Swedish!
Apart from some useful info on the 102, here is a curio, Century models fitted as st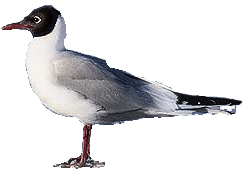 andard with fuel pumps and remote tanks!

---
New Tank Sticker.
At last I have figured out how to get the scanner to work, so here is a pic of the new tank top sticker.
It is now a vinyl self adhesive affair and costs £5.50 plus postage. Post Script, 2007, new waterslide transfers now sold by SOS, £10.00

Of course the sneaky ones out there will be scanning it and making your own, if you do have a bash at the other ones that were used if you can find a good sample and scan it off a tank, there are some that would love to have the really old logos!
2010 the 102 transfer is in!
---
Gearbox conversion found for Century 4hp models.
I will post a pic later, this is so unusual, never seen the like, but a purpose made addition to the front of the gearbox. The cap is removed and this device added, the actuating rod passing down the side of the tubes from a new, non British Seagull, lever attached to the top of the drive leg. There is a lever on the side of the additional part.
Has anyone else seen one of these, or can throw any light on it? Both Peter, the owner, and I would both love to know more.

---
If I am not answering the phone, this might give you a clue to where I might be!

Please look through the 'FAQ' page first, you might find what you need there.
Try also the 'I. D. your British Seagull' pages, before mailing queries to me, as I now have to spend much time answering your e-mails! That, of course, keeps me from the workshop! UK queries may be better by phone, as I can ask you those extra little questions that might solve a problem easier. (Like why your 102 has a century plus gearbox!)
Mail or phone me for parts I will give you an e-mail link for online payment, or you can pay by cheque by post
PayPal payments now accepted! I send out a PayPal invoice link and using this you can pay with any credit or debit card securely on line. (Or a PayPal account!).
This means you can pay using major credit cards, and from overseas as well.
(For UK customers I still accept cheques, contact me for address and postage prices.)
I will send your parts by first class mail, or if over weight, by Parcel Force. My P&P prices are some of the cheapest you will find.
You will have to forgive me if you do not get your parts back inside 24 hours, I only get one post a day here, and that is often too late for me to catch the post out locally!