Gallery..
Hello Folks, As the site had to be enlarged to allow for all the guff I put on it, I have enlarged it enough to put some of your photos on here too. Have patience, might take me a little while to do, but I have dozens, so give the page a look every now and then.
Click the thumbnails to enlarge.
John, SOS
---
Thought you might like a few pics of a cutaway model I have. Produced by the Villiers apprentices about 1970.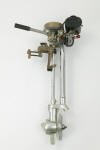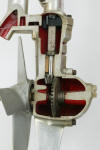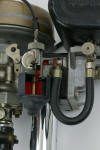 Pics by courtesy of Classic Boat Magazine.
See if you can spot the error, Peter Whiting did!
---
New SOS Engine cover gets Special approval!

Thanks to Albert in the Netherlands for this one! His daughter has adopted it! Now where do I fit the outboard Dad!
---

Hi John, We have two British Seagulls, the one shown on our raft is a 1963 Century direct drive, we also use it for a second motor on our 14 foot skiff for ocean fishing just in case the main engine, a 15 Hp. Johnson should decide to pack it in. Our other British Seagull is a 1976 Silver Century Plus, we used it as the main engine on our 24 foot dory while commercial fishing for salmon and bottom fish in the Pacific off of California and Oregon. It proved to be a very trusty engine, never once did it not bring us safely home in 2 years of fishing. We also used it for many years as the main engine on a 16 foot river dory. Both engines still run great though we have always used a 16 to 1 fuel oil ratio with non-detergent 30 weight Valvoline oil.
Seeing some of the pictures of the restoration work other folks have done to their British Seagulls makes me think a good winter project for me would be to clean both these old beasties up with some fresh paint and chrome.
Have a great day John,
Steve
Interesting to hear of Steve using straight 30 grade oil still, but I see he has leaned off the mix to 16:1! John
SOS
---
This link is on the Forum, but thought it good enough to put on here too, the owner filming his son with their British Seagull forty, by the looks of it! Sounds like Dutch being spoken, great end to clip, hope they went on their way rejoicing. I have heard from Arie in Holland, he say's ' I filmed my 10 year old son Chiel in a small rubber boat last October, I have a 40+ British Seagull build in February 1968 and it is running very well as you can see.' This is his film. He has sent this picture in to go with it, it is of his son Chiel at the helm!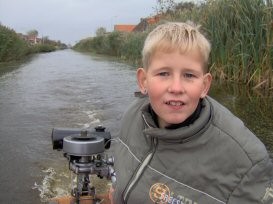 ---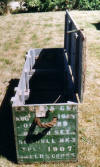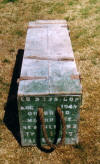 Andrew Dawson has kindly sent in these pics of a nearly completely intact Crate for British Seagull 1945, August.... He was presented it for his collection in Norfolk, he just needs the 1945 British Seagull to go in it. He hopes to open a small maritime museum. It is the best example I have seen so far. I have a slightly younger crate, almost intact...
---
Hello John!
First of all, Thanks for a great site, it has been wonderful source for "a beginner with British Seagulls".
I wanted send you info about our local outboard enthusiast who run his own Outboard Museum in Porvoo some 40 kilometres east from Helsinki. There are lots to see approx 200 different outboards including several British Seagulls (i think there's one in the picture).
So if anyone's interested below is contact information for owner Nils Haggblom and address of his museum. Nils has been running a boat business over 50 years and has been collecting outboard motors since.
OUTBOARD MUSEUM
This museum, located in one of the distinctive shore houses on the banks of the Porvoo River,
is an exhibition and also re-creates an outboard motor repair shop of the middle of the last century.
Also available is literature specific to the field, brochures, and manuals. The displays change regularly, with the theme for this season being Vanhoja Tuttuja ("Old Friends").
Open from June through the middle of Auguston Sat-Sun 11am-3pm, or by arrangement.
Admission charge: voluntary donation.
Jokikatu 14, 06100 Porvootel. +358 (0)40 513 0600
Best regards, Joni Thanks Joni, The British Seagull collecting bug is catching! John SOS
---

Thanks to Rob for sending in a shot of just part of his collection!
None off the British Seagull's in the picture are restored these are all they are just the way I've found them. [The one on the right was my dad's seagull ].
Seeing this pic must make you think : like you've said before, I am just another hopeless case. Now you now what I'm going to do this winter.
It took me years to find time to start with sorting this seagull thing out.
Now the kids are pushing me because the are also getting this 'British Seagull feeling'.
Regards,
Rob
---
This picture from Floris in the Netherlands, shows his British Seagull perfectly at home on a classic 1930 Dutch vessel. Interesting bracket arrangement too.

From Magnus in Sweden.... Tackel & Tågowner Ulf Lundgren, the Swedish dealer were I help out with British Seagullmaintenance in Stockholm. The other pick is my Model 75 out on a run atlake Yxningen, Sweden.
---

Below are pictures sent in by Gordon McLellan of his 40 year old 40 plus and him posing as British Seagull man, he admits to having forgotten to take his shoes off! Gordon has been refurbishing his British Seagull for a while and was delighted to find, once he had fitted the replacement lever I sent him, that the gull not only started on the first pull after years of lay up, but on the second turn of the flywheel! The idyllic setting is Porthclais, near St. David's head. He said the British Seagull ran faultlessly!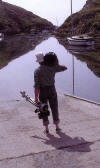 Thanks Gordon,
---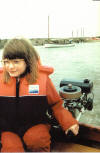 Andrew Dawson sent these pics in, his little dinghy with faithful British Seagull, I like the ensign! His daughter Beth at the helm. that's the age to start them off! My daughter was 8 when she mastered the paddles... now she is a competent helm on our boat over 30 years later! Andrew is one of those splendid singers in the Sherringham Shanty men, if you have never heard them you have missed a treat!
John SOS Dec 05
---

Above is a pic of Phil Ham's flock of gulls. The 40 plus he bought for £52.00 when he was on a wage of
£9.00 .1s 7p!
---
A fine example of a Marston, picture from 'e-bay'. Note the missing skeg though, who was the seller or buyer I wonder?
---
This one from Rob, British Seagull and Pelican!
---
From Bermuda, Michael Anfossi's model A, another Marston in running order!.
---
Top of an Australian 'Olympic' model from Steve Green of Perth. It is basically a tarted up 102, but very nicely done.
Another shot of the 'Olympic', note dimples on end of tank, and different air intake on carb.

For a long time I thought this was a British Seagull 'tarted up' However, thanks to Charles Palfreeman who found this old advert, it transpires the 'Olympic' was a blatant copy of a British Seagull, built in Australia. It certainly was a quality product, I wonder why it never survived? too well built maybe!
---

Rare picture of British Seagull still with it's crate, and paperwork! This one again from Steve Green in Perth. Very nice condition.
---

Another from Rob, running on 10:1 and smoking well, then the second one is after being converted to 25:1, what a difference!
---
British Seagull on a British Seagull by Fran McCarthy, classic isn't it!! Well done Fran.
---

Excellent pic from Bill Harrison!
---

Is this the future, steam power!! pic pinched from Vintage Outboard site, Yes it's really a British Seagull under all that.....
---

This pic from Jules in Queensland, of the original cover plate on early British Seagull flywheels, a 102 in this case, note the wording!
---

This Century plus long-shaft is one I have renovated for sale, (sold). Note blue lanyard!
---

I add this picture to show where the engine number should be. Now who sent me this pic?
---
This Forty Plus is another of my renovated motors sold last year.

And yet another Forty plus, just out of the workshop.

This is my own Forty plus, a late model normally used on the tender. It is a TSEFPC model with twistgrip throttle and CD ign etc. This late in production the exhaust tube has no holes in it and there is a jet of water into the exhaust to cool and quieten it, a very reliable and robust motor, sadly because of the rules imposed by the EU, it could no longer be built.
---



This is a very special engine. It is the 1934 Marston Super Lightweight. The wonderful bronze gears you can see are part of the Harper designed Reversing Gearbox.
---

Model OA 670. Note odd Villiers carb air intake. Not standard I suspect. Most of the rest looks in very good order. Now who sent in this set of pics? I have heard it might belong to Martin Gator? That true?
---


Here is another just out of the workshop, a Kingfisher. Note no tank. This motor uses a remote tank and is hung over the back of a 30 ft Essex Smack, a large and heavy traditional fishing/sailing boat. It is it's only power!
---

These pictures from Myles Friis-Smith of the lovely job he has done restoring this Featherweight. It will be used too, as it is a present for his Father in Law!
Another of Myles's restored motors, this time a FP.


What excellent work.
---


Here is Wolfgang and his lady on a lake in Austria I believe, and in a snow storm testing his British Seagull! Devotion!
---
Indebted to Alan Hughes for this one, of a British Seagull 'Back up Motor'!!
---

Thanks to Rob Batchelor for this fine pic of his Century Plus mounted on his dinghy.
---
This is a pic of a customer, Roland, with his dad, taken 40 odd years ago, British Seagulls in the blood!
---
Nice pic of Steve's old Seagull 102 motif, all the way from Perth, Australia.
---


This well preserved Century belongs to will D.
---

This pic was pressed into my hand by an ex British Seagull man, no explanation, he just thought SOS was the best place for it. Do you recognise the dog?

How about this for a few British Seagulls! The factory store in 1977!

The Testing area at Poole Factory, about 1977. How many test tanks are there?
---

How about this for a pretty model LS? Devon Jones in Australia is the man behind all that shine!
---

These are Steve Fisher's motors, the top one is a British Seagull SD, Wartime model with lots of copper and bronze bits, I think it is a Navy Special. The other looks like an 'Atco Boat Impellor', it has a Villiers motor. Any other guesses?
---

Pic From Ben Bagley in Florida.

Seems Ben is also an avid biker!
---

Rick from Pheonix has sent this nice pic. Don't let that British Seagull fall Rick!
---

The smile says it all! Rob from Oz with a 'free-gull'!
---
Now this following pair of photos are just to show what is sometimes brought into my workshop. 'Can you give it a quick service', the man said. He had just bought this from an unscrupulous dealer in Woodbridge. 'Does not have a lot of go in it!' this is what I found as I started to strip it, just before we scrapped it!

Yes the crankshaft had broken and the nut was glued on! Can you imagine what might have happened here if the flywheel had come off? I later found the collar on the rope pulley had been welded to the crankshaft, I had to cut it off with a grinder! what some do to a British Seagull....

Well that's why there was not a lot of go in it! This copper pipe was stuffed into the inlet, to glue the inlet stub on, as it was snapped clean off and held with glue! The end of the copper pipe was touching the piston! And it ran! That's a British Seagull for you! The piston has also got a lump sawn off the skirt! 'Can you give it a quick once over john?'
---


These two pics were sent in by Peter Baker. the British Seagull is fitted to his 77 year old boat and plies the current betwixt Anglesey and a little island in the narrow! At slack water Peter says!
---

I just had to put this one in! Sent by Sampo and Paivi Haljoki, as they say 'From the land of Santa Claus, Finland'..... After 10 years in a barn it fired up!
The say they will repaint that yellow tank, but I guess it makes it easier to see in the snow......
---
Alex Jerrim of Tasmania has sent this photo of his beautiful dinghy, built of local 'Huon Pine'. The British Seagull looks just right. Following the advice on the FAQ pages he managed to 'de scale' his block and she runs fine... Look forward to seeing her sailing too!
---

Steve sent this pic of his father in, taken many years ago when the British Seagull was new, note the smile! Steve still has the gull!
---
John Cunningham has sent this picture of his very old 102, though it is a bit on the dark side out in his garage, we can still see a very shiny gull! As a P.S. to this, have just heard from Bruce in Australia, who says he now has this motor.
---
Can any one spot the mistake here?? Yes there is one..... Answers on e-mail, the first one gets a new spark plug! Well that did not take long! A plug to Charles Palfreeman! I will put the answer on the news page, for those interested!
---

Charles Palfreeman sent in this nice pic of a tank refurbed with new, old stock transfer. I have some more of these made...... 2007. I now have transfers as the 1960's and 70's waterslide, right down to the backing paper! See the for Sale page, just £10.00 each
---

This is Mathew Perring's motor, it is a Little forty model in quite nice condition.
Sadly the other pics were slightly out of focus... Can I have another of that tank please!
Tommi Viuhko's 102 from Finland! Just what are the sticks for Tommi?
---

Dave Tiddy's restored British Seagull a working motor!
---
Kees's F, in Holland.
---
This is Rob Riple, motoring on the River Yarra in Australia. Like the hat! Interesting is the tiller arrangement Rob has rigged, so he can steer without twisting round!
---
Nigel Lemmons with a grin that says it all. First outing, Oulton Broad, Norfolk!
---

Another Classic pose, this one from Simon Thorp on his 64 British Seagull!
---

Rob in Australia has just been out surfing with his dinghy and this seagull! Note the cranked tiller extension!
---
After 20 years on the bottom you can still see it is a British Seagull! thanks Steve!
---

Peter Knol from Holland has sent this pic of his smartly renovated 40. On the inland waterways of the Netherlands it should last years!
This Featherweight also belongs to Peter Knol, he prefers the tank shiny, the rest looks quite shiny too! a nice restoration, and it gets used too!
---
This is Rob of the Netherlands, British Seagull collection! You will find some close ups of his 102 on the 102 page.
LAYING DOWN LEFT TO RIGHT , F xxxF8, SJPxxxxx, LLSxxxxD6, ADxxxxx, TDxxxxx , TCxxxxx, TCxxxxxL, ACxxxxx, ACxxxx
STANDING LEFT TO RIGHT: ON14 R, TDxxF4 R, TDxxxxx, ADxxxx , TCLxxxB32,THCxxxxxL, THCxxxxL , ACxxxxxL, CPLxxxxG5, CP/CL2xxxE5




Here are more of Rob's British Seagulls, plus one of Rob himself and his lad Bas, out British Seagulling in Holland!
---




The pictures above were sent into me by Graham from deepest Russia! They are of a Caviar boat he and his American colleague salvaged, whilst working on the oil fields of the Caspian Sea. I quite like the twin Forty Plus clutch drives on the back. Note the linked tiller arms. Graham tells me it gives an extra 1.5 knots and as fuel is so cheap.... Also a good back up as there is no one, literally, no one for miles here!
---
Mail from Rob and Pat in Australia, was visiting the Thames and my old station, Wapping!
Wife and I were on the Thames, Jan 2005 and saw the Water Police with their Rubber Boats and twin engines ...
So last Sunday another member of the VWBA and I decided we could do the same ....

Luckily the local Water Police (in Oz!) were not about to compare the Registration label with the number of specified engines, however it was a water churning good fun ..... and very little increase in speed!
---

This British Seagull crate holds a 41 year old Forty Plus that has never got wet! Craig Larsen is the lucky owner! There must be others out there!
---
These are short cuts to short films about restoring a Century, from Bruce in Australia.
---
Indebted to Naas for sending these two in, taken by his father, Koen de Vaere in Tanzania.
British Seagull working for their living! Bet they still are too!


---
This short clip show's young Ben's British Seagull starting for the first time! If you look closely you can see why it did not pump water... Ben realised and topped the tank up. Works fine now.
Film of Ben's British Seagull starting!
---

Another of Peter Knoll's motors. this time a gleaming Century, late 1960's early 1970's I guess by the wipac ignition.
---


This wonderful series of photos came in from Steffen. The British Seagull goes so well with a classic like this. You could be in a time warp!
---

Albert in Holland makes his British Seagulls work for their keep! Seems happy with them too!
---

Here are a pair of beauties from Queensland, Don Fee's British Seagulls.
---

Now he said he was just going to check the engine height was OK! His wife caught him on camera! thanks for this one Warren. Bet the pool is frozen now, December 07.This is Canada!
---

This motor also appears on the Marston Page, yes it is a twin! Thanks to Tom in the States for this pic. sadly he sold this years ago, hopefully it still exists....
---
This is Chris Bird with his Century, buzzing along on the Norfolk Broads.

This is Chris's grandfather, Cecil Perham, with his new Marston on the Broads in 1933!
The racy lady in the next picture was his girlfriend of the time!
I bet British Seagull would have liked to use that for advertising.. Hmm... in 1933 maybe not!
The Marston is still with Chris and with the help of Charles Palfreeman he hopes to have it out on the Broads again soon.
---

Rob in Oz enjoying the sunshine!
---

Peter Griffins flock tucked up warm in his garage!
Trouble with British Seagulls, lock them up in a shed or workshop and the will breed! Nice collection.
---


I wonder has anyone tried one of these or do they have a comparison chart...
Igor has sent these pics in, he found them, they are made in Brazil!
I have heard from Bruce in Australia, they are the wrong heat range he says.
No good for Gulls Mate!
These are a "SUBSTITUTE" not correct at all. Far far far too COLD.
D16 - 21 still available so why bother with relying on a recommendation that is wrong.
---

Mike Williams of Perth sent this beauty in, look at the chrome!
---
Rob and Pat have sent this unusual picture in! Now At first I was looking to see how he air brushed the boat out, but it transpires he had no stand, so stuck the skeg in the sand and started her up!
I guess the prop was disconnected too or it would be throwing up water!
Not to be recommended, but certainly different!
---
I send a parcel of spares out to William on the other side of the big pond a few weeks ago, transported there by his aunt. Pleased to see the '68 Forty Plus is working well in a tub on his front drive, in the snow!
Click here to view a cold Seagull!
---
Neil Watkins transformed this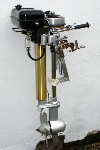 To this sparkling blinged up Gull!
Even down to a Marston type air inlet, for added shine!
She will be exhibited at the Wooden boat show 2010.
Not standard I know, but just shows what is possible!
---
Another really shiny Seagull! This one by John Martin, like the black on the bracket to off set the shine.
Just look at the shine on this flywheel, not polished on a lathe either, buffing wheel!
This is from John Martin, good pictorial descriptions of how he gets the finish he does!
---

This is a Seagullman badge, pic from Albert in the Netherlands, he found this and a lot of old adverts, they will be published on the nostalgia pages! these badges were given away at shows and with new Seagulls, have you seen one?
---
This pair of Pics from Dagmar and Chris, they were selling it in Germany/Holland area.
A near perfect example with it's shipping crate!
---
These pics have come in from Frank James in New Zealand. I had been looking for a longshaft Silver Century like this and got all exited, till I found out where it was! Best of luck with the sale James.
---

This one belongs to Ted, but has terminal block problems, so it is all painted up awaiting a donor block.
Incidentally I hope to have new 102 transfers shortly, April 10.
---
Think you will agree that Roger's mini Yole and the Seagull go well together!
---

Another from Rob in Australia, this time his FP on his dinghy.
And another from Rob, of a friends boat with side mounted Seagull.
---
These pics in from Chris Bentley, thanks Chris.
---

This set up is Esko's from Finland. thanks Esko.
---
Helene and Rays Seagull powered dinghy. Looks a little short on the stern but as soon as dinghy loaded the Seagull sits better, but watch out for that prop Ray!
---

Seagulls found hiding in a shed, who sent these for the gallery?
---
Alan Adkins restored Seagull 160 Inboard
---

Pete Newton's Seagull earning it's keep, towing a boat home.
---

Mark Wiggs's very old Seagull 102, note the 'skeletal' mounting frame.
---
Boris from Croatia has beautifully restored this Seagull Century.
---

Another from Arie in the Netherlands.
---

Rob doing it in style as ever!
---

Keith Pizey's immaculate Little Forty.
---

Pekka in Finland has restored this LLS, one of many gulls he has.
Here he is with yet another.
Pekka has sent in a recipe for brass and bronze restoration too.
I have a good chemical tip to clean brass parts.
It is cheap and old Finnish generations have used it for ages.
First the oil and grease should be taken off by washing it for example Fairy, petrol or lamp oil.
Then you need a normal vinegar and normal salt.
Put the salt to the vinegar so much as is possible.
Let the parts be soaked in vinegar over night.
Then wash the parts with warm water.
When dried, wax them with normal auto wax.
Maybe this tip is already known, but I tell it anyway.
Best regards Pekka, Finland
---
A 'pair of Seagulls' Sent in by...... taken of him and his good lady when they entered a local event in Faversham., Kent. Great!
---
Jeremie sent this in from France. the Seagull is his main motor...
---

Dave sent this in from Australia, a converted Seagull 102, into an inboard!
---
Peter (40tpi) sent this one in, sunny day up a Devon river for a classy picnic! Nice one!
---
This one taken of me at the 2011 Essex event. It is not only is my van that is a mobile advert!
picture by John Stevens.
---
Willems's Avon in Holland sports a Seagull!
---
Adrian Randall's nicely finished Seagull. Is it an FVP or an LS? No it is an FV...
---

This wonderful selection of photos come in from Karl in Australia. What a shiny example of an early Seagull 102. a credit to you!
---
Mark Russ sent these in, him and the family enjoying a Seagull run in the Adriatic. Great fun had by all.
---
This pair of fun photos of a dinghy with Seagull, suspended above the customers as they sit in the outside bar!
Hard hat anyone!?!?
Now I need someone to remind me where this topsy turvy motor is to be found??
John
---
John
SOS
To E-mail SOS john@saving-old-seagulls.co.uk
(or phone01621 778859)
If I am not answering the phone, this might give you a clue to where I might be!

Please look through the 'FAQ' page first, you might find what you need there.
Try also the 'I. D. your British Seagull' pages, before mailing queries to me, as I now have to spend much time answering your e-mails! That, of course, keeps me from the workshop! UK queries may be better by phone, as I can ask you those extra little questions that might solve a problem easier. (Like why your 102 has a century plus gearbox!)